RRR teamed up with the National Gallery to bring the Van Huysum Visits tour to East Belfast!
In this programme, we wanted young people to have the experience of curating an art exhibition that highlighted their perspective. The painting, 'Flowers in a Terracotta Vase' is a wonderful floral painting by Dutch Master, Jan Van Huysum.
We chatted on zoom with National Gallery's Exhibitions Manager for National Touring, Gracie Divall to learn more about the heritage of the painting, the natural history behind it and the wellness focused theme of the exhibition, Take Notice. Armed with this information, our participants jumped in to share what inspired them!
The resulting exhibition was completely directed by the thoughts, ideas and hard work of our participants. They designed and created all of the signage and decorative elements of the exhibition, bringing their creative direction and fabrication skills to the project.
The Take Notice exhibition was held in Portview Trade Centre's 'What's the Story?' space from the 10th – 17th of August.
But we didn't stop at just one masterpiece! We also had discussions online about artists that participants would like to commission to create further artwork in response this exhibition. A shortlist of artists was drawn up and in the end, we chose Wee Nuls (Nuala Convery) to create this incredible street art mural.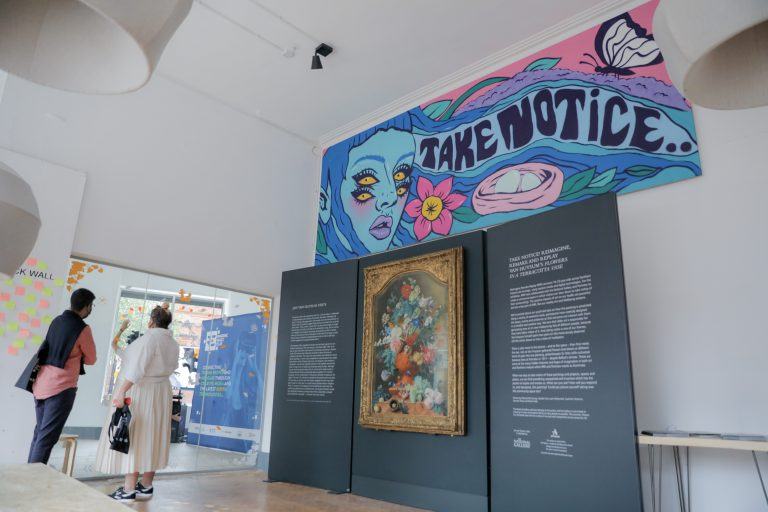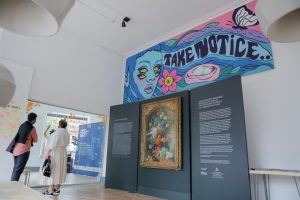 People who attended the exhibition also got to experience the painting in virtual reality! The incredibly talented artist Estella Tse created her interpretation of Van Huysum's painting in Google Tiltbrush, bringing a modern perspective to the work.
One feature of the "What's the Story?" space were the unique sound cones which could be programmed to play an audio recording on loop to be experienced by people in the space. Two of our participants recorded an audio description of the painting to make the exhibition more accessible and an explanation of the heritage behind the painting and gallery space. You can listen to these here.
Michael McConway- Sound Cone Heritage and Exhibition Recording:
Hannah Sharp- Sound Cone Audio Description of 'Flowers in a Terracotta Vase':
On the Saturday, we also ran two slow art sessions for young people with the brilliant Art Psychotherapist Lisa Kelly. These sessions invited people who attended to simply spend time to notice what was in the painting and mindfully express what the painting made them think and feel.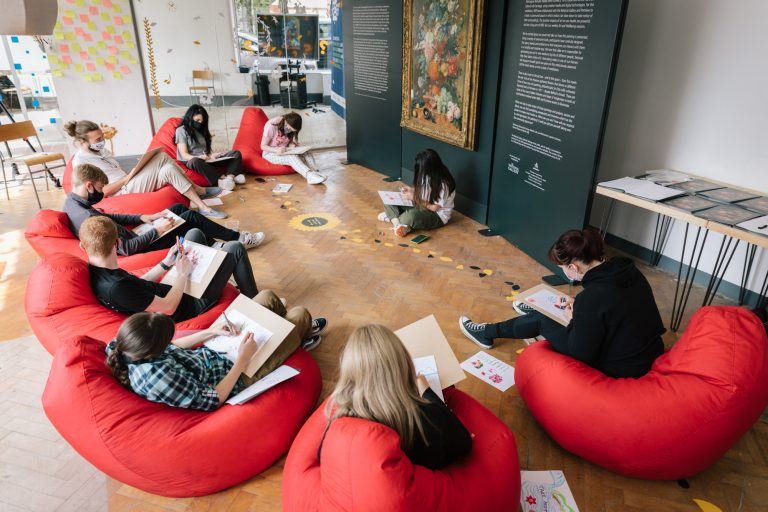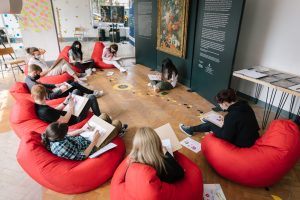 Some participants also filmed a documentary about our creation of the exhibition. It is currently being edited and will be uploaded here and on social media when its finished!