By Hannah Sharp
For a week in August 2021,  an impossible bouquet bloomed in East Belfast! 💐
Thanks to the National Gallery, RRR was given the opportunity to create an exhibition around the marvellously mad Dutch painting, 'Flowers in a Terracotta Vase' as part of the Van Huysum Visits tour. The painting shows a fantastical array of flowers, fruit and assorted insects in a decorative terracotta vase. The painting is so over the top and fun. The flowers shown could never possibly have bloomed at the same time in real life, adding another layer of fantasy to the painting.
There were six stops in total on the paintings tour and each one had its own theme surrounding the "Six Ways to Wellbeing". Our theme was Take Notice and as the last stop, we wanted to close out the painting's tour around the UK in style.
Weeks 1 & 2: RRReunited and It Feels So Good
We kicked off our sessions with a digital session with National Gallery's very own Exhibitions Manager for National Touring, Gracie Divall, who shared the news that this Dutch Masterpiece was coming to our own little city. She shared the work of previous venues who took part in National Gallery tours and chatted about what we might think about going forward. National Gallery's Associate Curator of Renaissance Paintings, Laura Llewellyn, also shared a brilliant presentation on the background of the Van Huysum painting.
Did you know that the average person only looks at a piece of artwork for only 27 seconds?
Or that just looking at a picture of nature can dramatically improve your mood?
How about that someone paid about £224,00 in today's money for a single tulip during the Tulip Mania in the 1600's?
I definitely didn't, but now you know too! There was loads of food for thought, so we all had a bit of a think about what we might like to approach in our next planning session.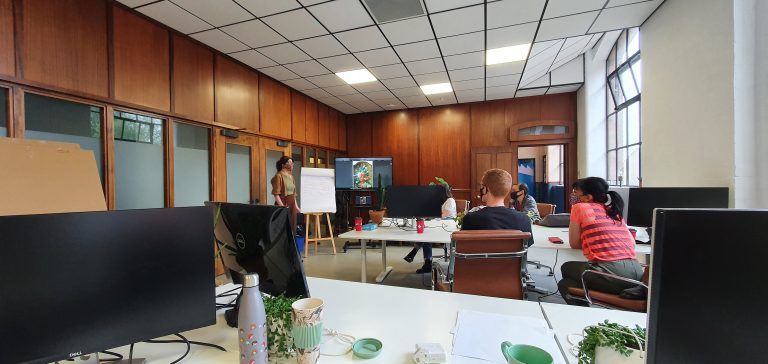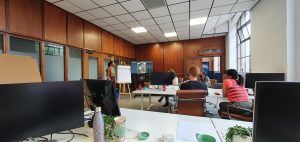 During week 2, we had our first post-pandemic, in person session (!!!) at Portview Trade Centre! It was so exciting to see everyone in person again! Hand sanitiser, social distancing and face masks didn't get in the way of the craic as we safely shared how we might like to tackle the theme and grow our own unique exhibition.
This was our first opportunity to have a look at the "What's the Story?" space in Portview trade centre that would house Van Huysum's masterpiece and to have a think about the layout and scale of our exhibition. We worked closely with Urban Scale Interventions, who were in charge of designing and renovating the space to refine our vision and discuss what we might bring to the spaces first artistic takeover.
The spaces high ceilings inspired the team to think about installing a mural on the higher levels and using vinyl signage to provide more information at eye-level. The two distinct areas of the space could be used to separate the VR installation from the rest of the walkways to give more space for people to explore the virtual artwork. We also had a think about what social distancing and Covid safety might look like in a space this size.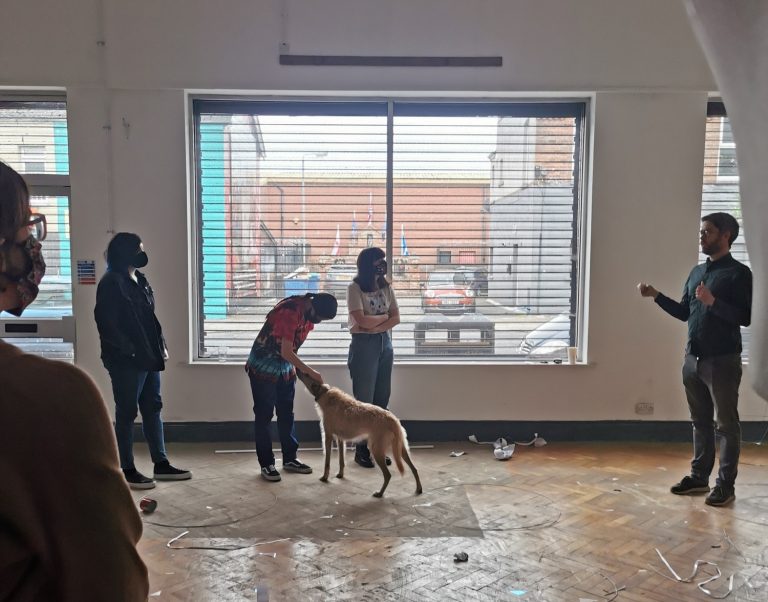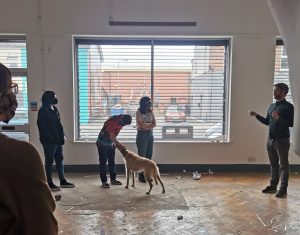 Core participants who, understandably, didn't yet feel comfortable to attend in person weren't left out. We continued to update everyone on our RRR Slack channel and made sure that there was plenty of remote work to go around. Covid couldn't get in the way of our creativity!
Weeks 3 & 4: Press RRReleases and a RRRidiculous amount of vinyl
The next few weeks before the exhibition itself absolutely flew by. There was so much to get done in the remaining in-person and digital sessions, but the group pulled together build our exhibition.
We had another online session where the caught up on how the press release and plans for social media were going. Due to security reasons, we weren't allowed to share any news about the painting until it was actually in the space itself, which would only give us a day or so to advertise before the exhibition actually opened. We wanted to have press releases ready to go as soon as the art was in the space, so talented participant Caoimhe Clements took on the role of copy writer for this task. The resulting press release was coordinated by Navigator Blue and shared across NI, appearing in Love Belfast and BBC News. Caiomhe also appeared remotely on BBC Radio Ulster to share her thoughts about the upcoming exhibition.
The BBC Newsline team also came to the space itself, interviewing me (Hannah) and Stephen about the gallery space, the painting and why we felt this exhibition was important! It was honestly one of the most nerve-racking things I've ever done, but I'm glad it got the word out about the exhibition. The more people who found out about the exhibition and came down to take a peek, the better!
In advance of the launch, we also created social media stories that would be shared on the National Gallery Instagram page to promote our leg of the tour. National Gallery has a whopping 1.8 million followers on social media, so, ya know, no pressure! All of facilitators and participants both chipped in to share the journey and what the painting meant to us (as well as some memes too, naturally!)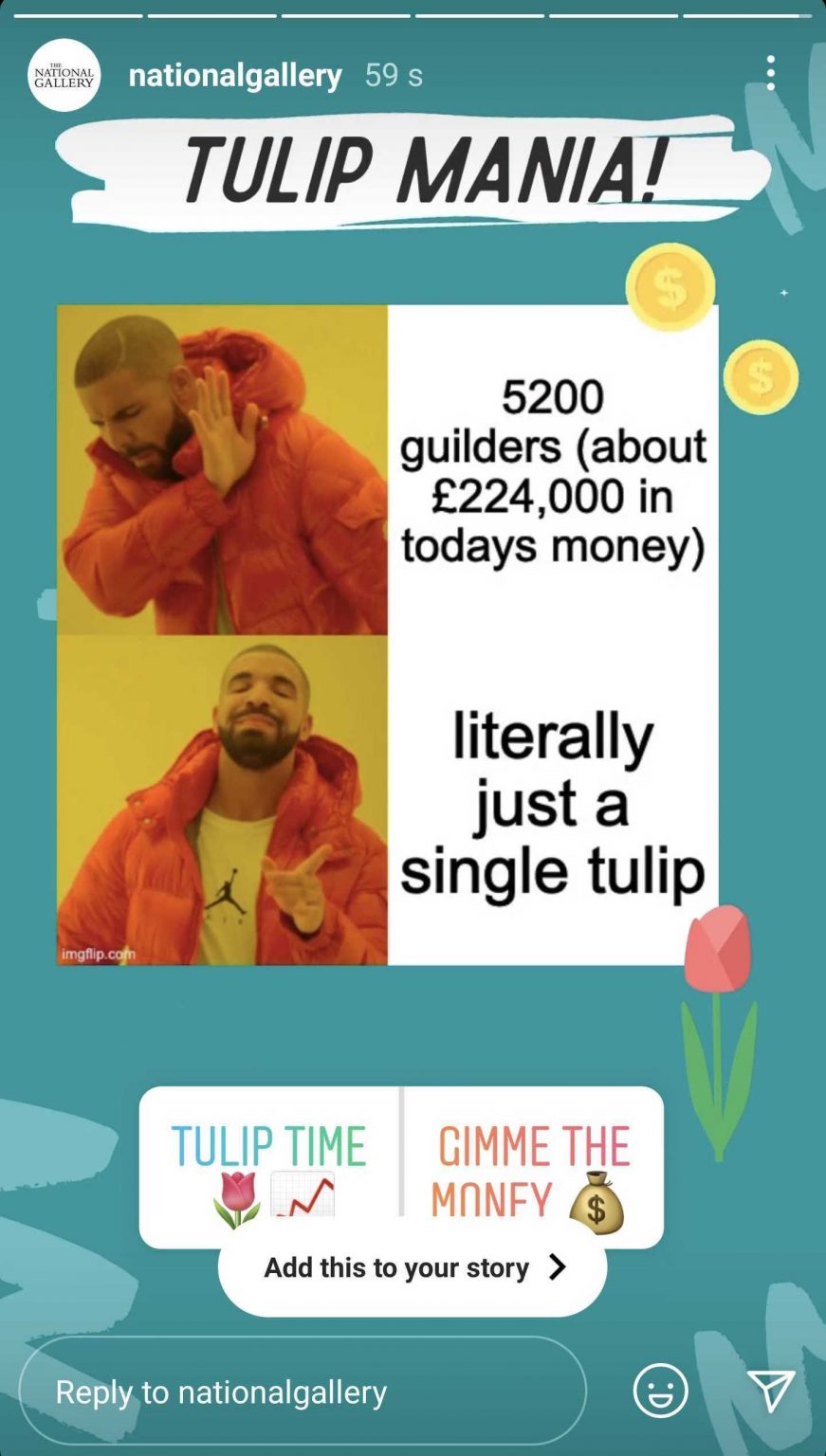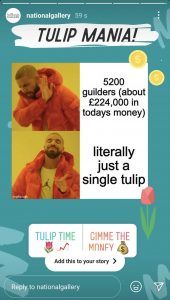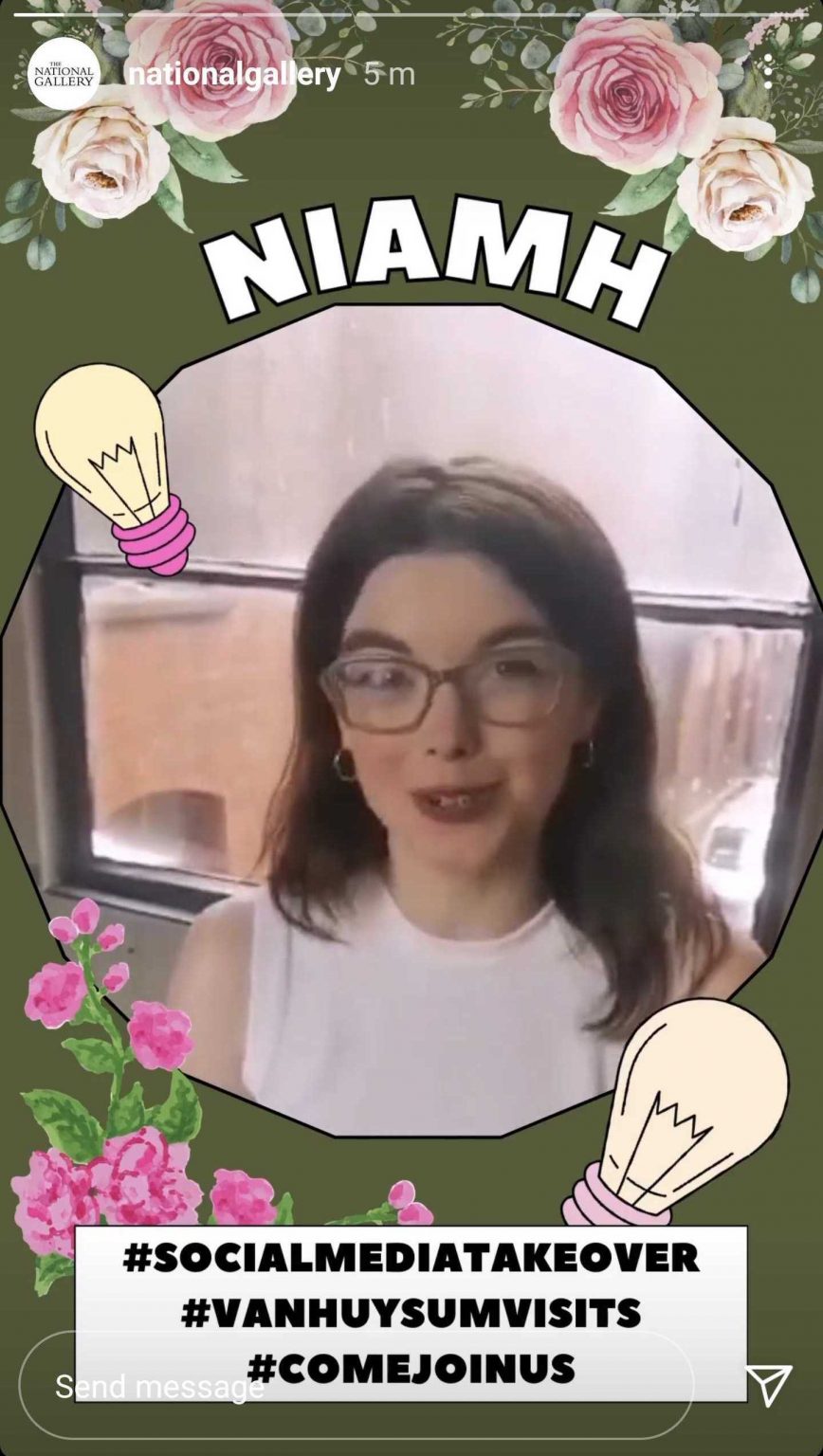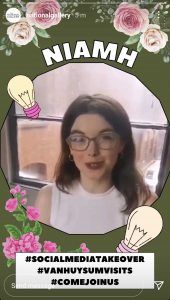 During the next few, in-person sessions an immense amount of vinyl for floor signage, material for tote bags, wall decorations, window dressing and more were cut in the vinyl cutter and weeded by hand in preparation for the installation. Myself, the fabulous Natalie Cole and honorary participant Ava worked hard to prototype and prepare the literal mountain of vinyl that would be so important to bring people into the space and show off the painting, mural, VR installation and tote bag printing.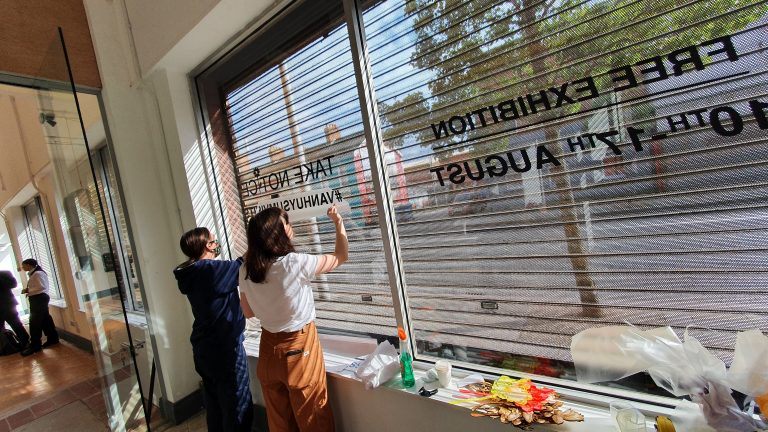 We also used Adobe Illustrator alongside the laser cutter to make decorative wooden flowers that would be stuck on the walls and rested in 3D printed plant pots around the exhibition space. Our herculean fabrication effort unfortunately coincided with some of the hottest weather Northern Ireland has ever had, so we had some well-earned cold drinks and ice lollies to help us beat the heat!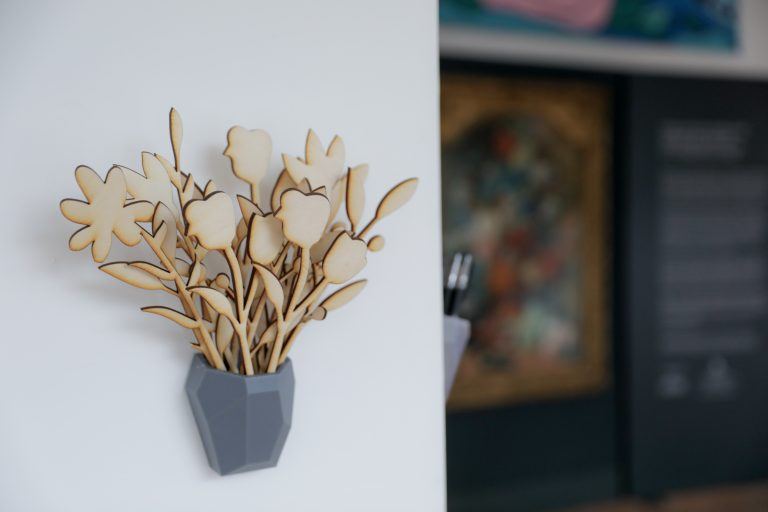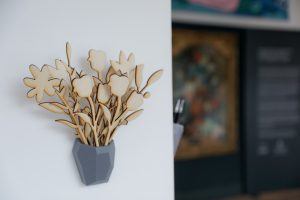 Two of our amazing participants, Michael McConway and Liam McDonnell, were also in charge of making a documentary about our process during these sessions. They interviewed participants as well as gathering loads of information about the painting and Portview itself. Keep your eyes peeled for the finished product on socials for this as it will be coming out soon!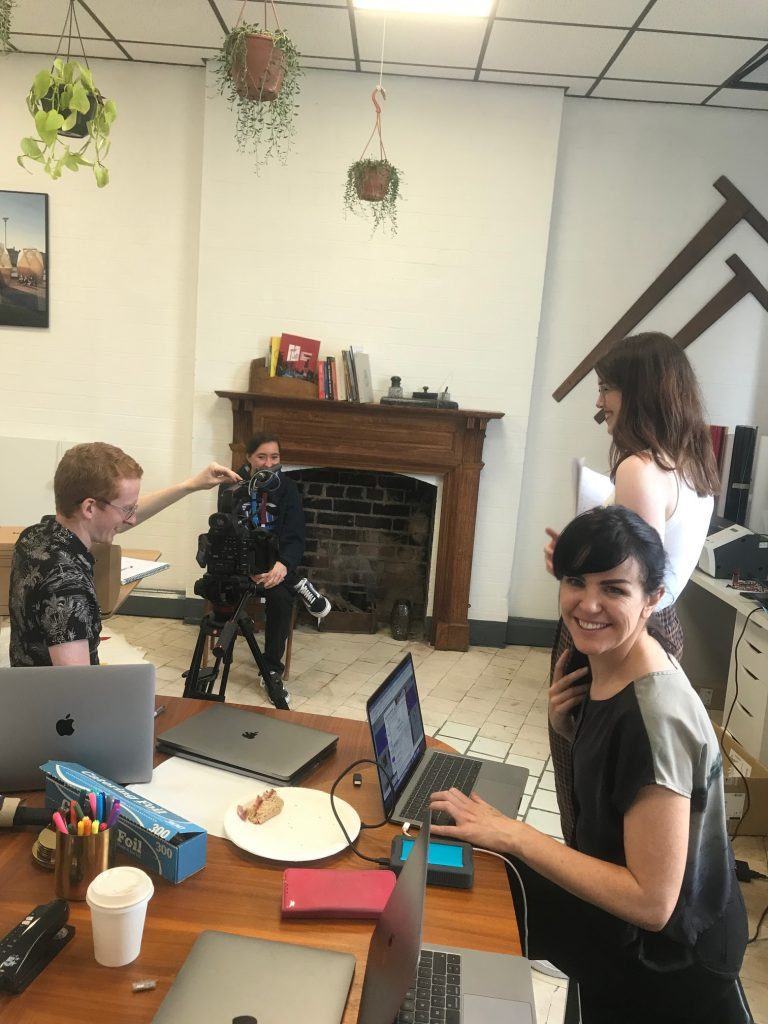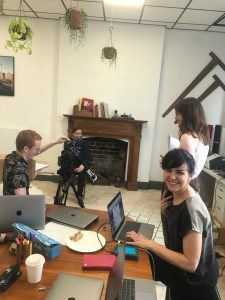 We wanted to create an exhibition that made the painting accessible in lots of different ways, so we utilised the sound cones that Urban Scale Interventions had designed for the "What's the Story?" space. We recorded an audio description of the painting to be played in one of the spaces unique audio cones. A second cone was also used to play a recording by one of our participants that gave information about the space, the exhibition and the history of Portview itself. You can listen to both of these recordings here:
Michael McConway- Sound Cone Heritage and Exhibition Recording
Hannah Sharp- Sound Cone Audio Description of 'Flowers in a Terracotta Vase'
Directed by the ideas of our participants, we also contacted artists far and wide to create interactive responses to the Van Huysum artwork. Local graffiti artist Wee Nuls (Nuala Convery) created an incredible piece of street art that was displayed directly above the Van Huysum painting and it wonderfully summarised the theme of Take Notice within the context of this exhibition. It was an exciting way to get people to take a second look at the details in the painting and it also looked gorgeous in the space too!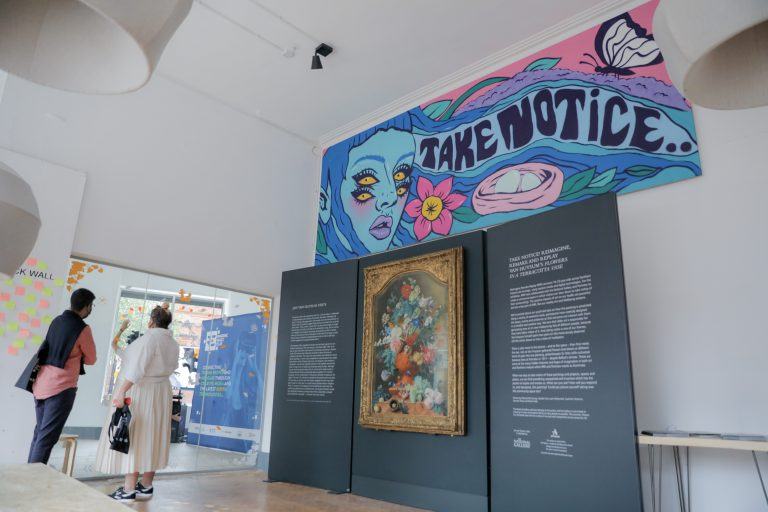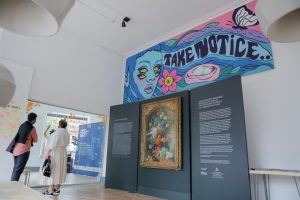 The team also got in contact with American VR artist Estella Tse who used her expertise in Google Tiltbrush to create a phenomenal immersive 3D painting. This 3D impression of the Van Huysum painting allowed people to move around in the 3D space and see the work from a new perspective. Estella is one of the leading artists in this emerging media and has created some incredible responses to other historical paintings. We felt extremely excited to be working with her to create something so unique with this new creative technology!
The Exhibition: Bloomin' UnRRReal
At last, all of our hard work bore fruit as we were finally able to open the space to the public! It was so rewarding to see people interacting with the artwork in new ways and sharing the unique perspective that young people can bring to heritage.
At the weekend, we also ran two slow art sessions hosted by trainee art psychotherapist Lisa Kelly, closing the gallery off to allocate time for a small group of young people to looking at the artwork and respond to in a creative and mindful way. These chilled out sessions invited people to take more time to look at the painting and respond to it in their own way simply by looking.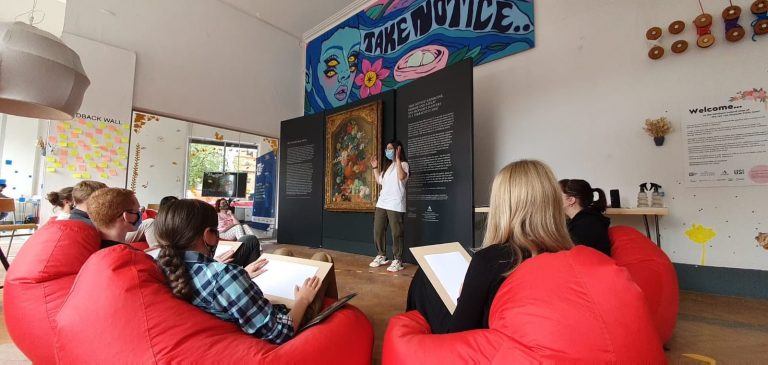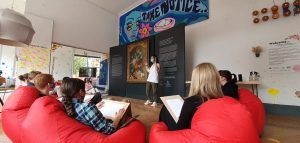 Interactive elements such as the VR experience and tote bag printing were particularly successful! We had put in so much work into creating this exhibition over the past weeks, and it felt so brilliant to see it pay off.
But don't just take our word for it. Here is some feedback from the general public who experienced the exhibition and were challenged to "Take Notice":
"The detail in the painting is magnificent and to see such a wonderful piece in Belfast is fab!"
"Absolutely loved it! Slow art was very relaxing. VR [was] very fun!"
"Loved it! What an amazing project, space and exhibition!"
I want to give a shout out and a massive thank you to our amazingly talented participants and the RRR team for making this exhibition possible! National Gallery also deserve a huge mention for bringing this opportunity to us and continually collaborating to make this happen. And thanks to the team at Urban Scale interventions, Portview and Banana Block for all their work on the space and for making our team feel so welcome.
This felt like such a special opportunity to be able to share this painting and our responses as young people interested in heritage with the rest of Belfast. I hope in the future, we can bring other significant pieces of art to NI spaces, and can continue to take notice in our daily lives, beyond the Van Huysum exhibition!