by Jacinta Hamley
I hadn't heard of RRR before partaking in my first programme; She Sells Sanctuary with Elly Makes, a digital illustration programme  in response to the worrying increase in domestic violence and abuse within our communities during the Covid 19 crisis.  We collaboratively created a set of 16 prints, of which all the proceeds go to  the 9 Women's Aid groups across NI.
What initially attracted me was the opportunity to use art as a means to engage with the cause and support women affected by domestic violence. With zero expectations, I was blown away by the quality and content of the sessions. From great speakers from the museum collection with their juicy nuggets of insight into our shared culture and heritage, and inspired our creations through empowering women of the past. To Elly, a talented and personable artist who led us with ease and oozed creativity in every call. Not to mention – Clodagh and Niamh, who coordinated with enthusiasm, kindness and grace.
Part 1: Heritage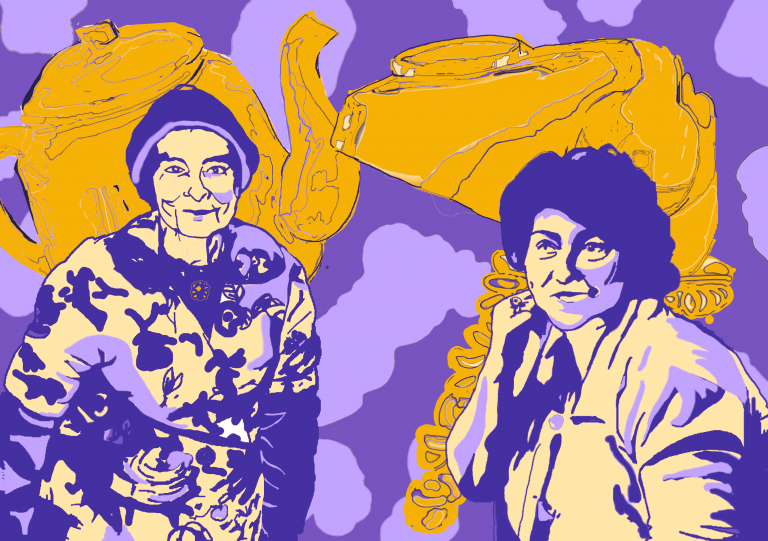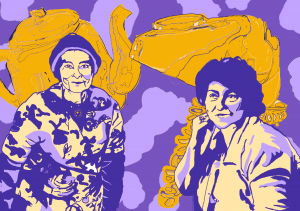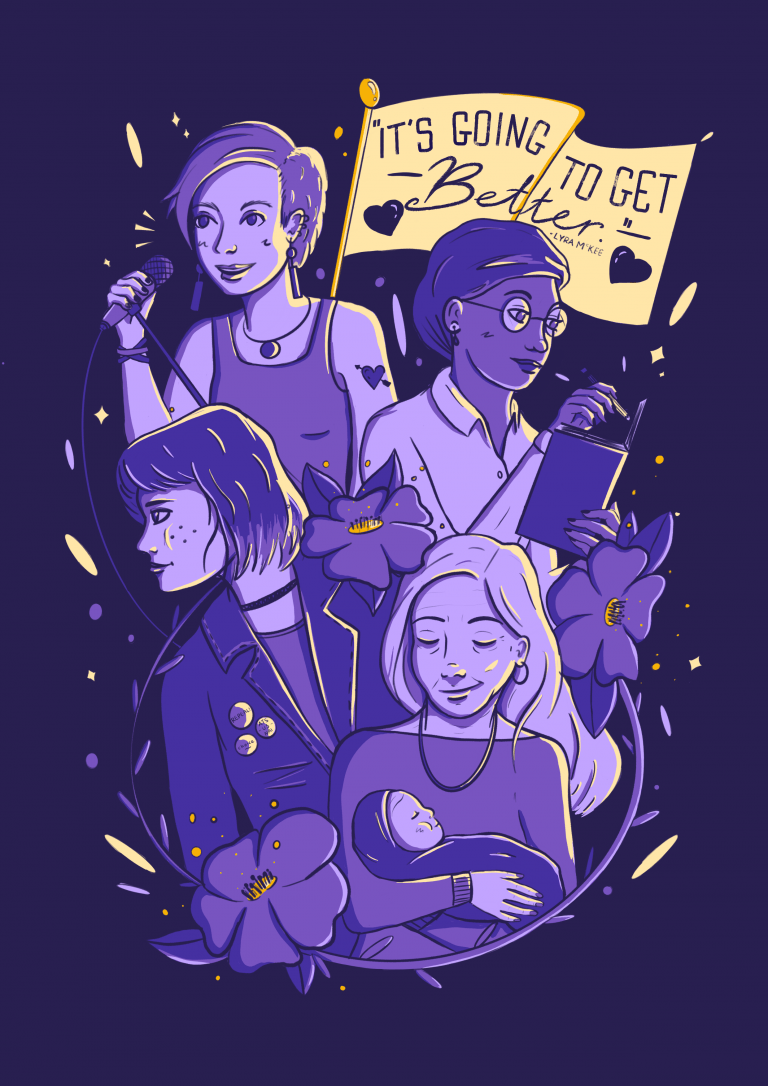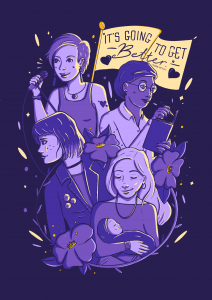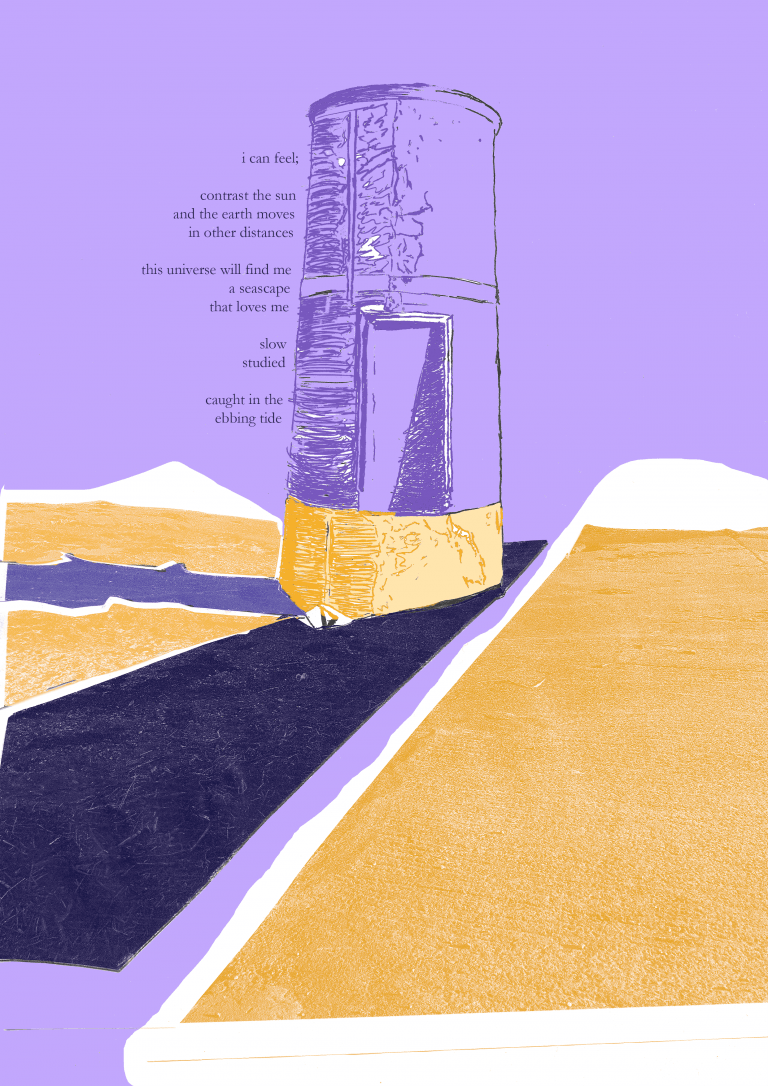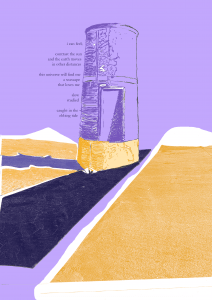 An aspect I hadn't appreciated enough when signing up, was how great an opportunity this was to connect with heritage and collections, from a neutral rather than one-sided view.
Coming from an integrated educational background, my story of engaging with heritage and culture has been 'middle ground', but limited. Despite my mixed upbringing and friendships, neutrality meant "brush it under the mat". We can live easily in harmony, but best not to talk about 'it' properly, because that's not an easy nor clear path. Like the *baby* elephant in the room, it was not a big enough deal to be the full grown thing, but certainly was avoided. Even amongst my loving group of friends, the conversation (of being Irish/British/Northern Irish, of family histories, of diverse understandings of the past, relation to the 12th etc) can easily turn sour. So what happens when you move that conversation outside of the safe confines of love and respect?
I don't know about you, but I didn't want to know.
So I've kept out of it.
The obsession with one side or the other, deterred me from engaging when every path seemed to be laden with booby traps and wrong words.
So I found it very refreshing for these sessions to seamlessly engage us with our shared heritage. It reminded me that the options aren't avoidance vs confrontation, that there is a balanced way to learn about the shared history of NI without defensiveness and clenched teeth. It was an opportunity for people from a compilation of backgrounds to explore our past together, without it being a big deal. For it to be a calm and low-pressure type of conversation. Where you can ask or just listen – whatever  you're comfortable with.
Perhaps most importantly, to learn about the experiences of those so often blindsided… Women.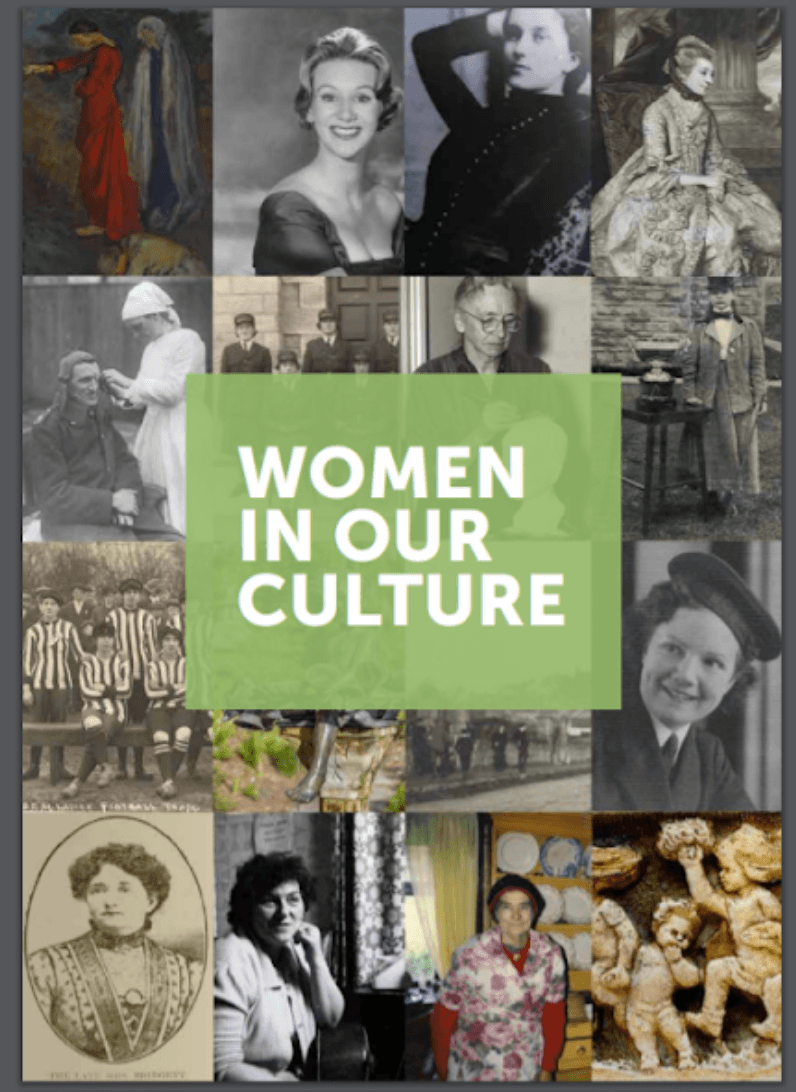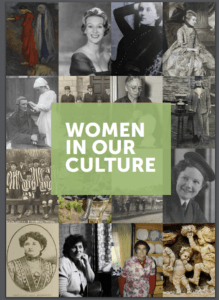 Women played a vital role in creating history and our present, yet so often go unrecognised and taken for granted. For example;
Belfast born Mary Ann McKracken who was a social reformer and a vocal campaigner in the abolishment of slavery.
Or Derry/Londonderry's Bridget Bond, who 'started the fight for Civil Rights when it was neither fashionable nor popular.'
(See Women in our Culture, from NIMC for a short publication highlighting many more here.)
This pandemic is history in the making, and in years to come we can't let the monumental role women and marginalised groups have had to be forgotten. Taking part in these programs felt like a testament to that – creating physical, tangible results to mirror the importance it had internally. Giving a physical presence to memories, stories, feelings.
I think that's why I appreciate so greatly the interwoven approach of RRR; a blend of history and art, just enough to inspire and inform, but not too much to feel like another lecture.
Part 2: Art
The second programme I joined was a set of two;
Face-mask making with Kit Rees and Remote RRR, with a digital design and embroidery version.
This was another engaging and fruitful set of sessions which delved into heritage through the lens of creativity and patterns. Throughout each of the programmes we were given the freedom to incorporate inspiration from any realm of our lives, it didn't have to be related to the museum collections. However, some really beautiful masks were made in response to the history we learned about: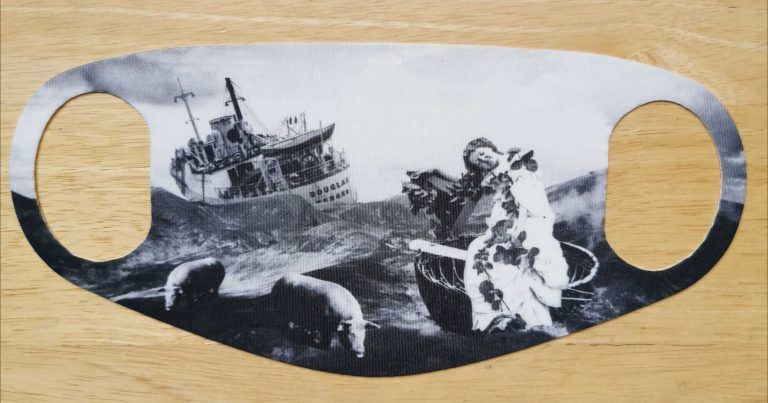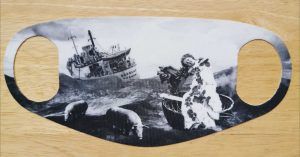 My first attempt at a mask was inspired by a recent adaptation of the most detailed model of a human cell. Considering the whole reason we're wearing masks is to do with a microscopic world we can't see, I felt it a fitting place to start.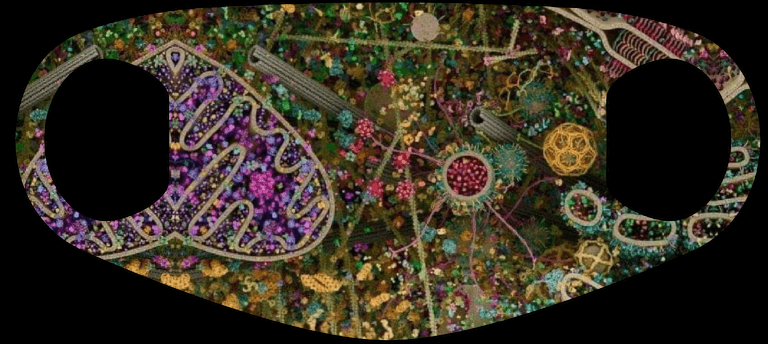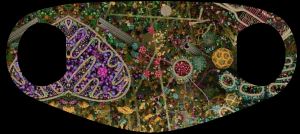 A week or so later, still amidst a lockdown and having one of those existential corona-induced crises, I was reminded of a podcast  I listened to a while back. The speaker was a writer and was expressing the struggle that she experienced after writing a best selling book and then having the pressure to write another better than that, when a significant part of her felt she had already peaked or perhaps it was a fluke in the first place. She was saying that, in the past, creative people were considered to be born with an external spirit, a "genius".  Whenever they went through pits of low creativity and inspiration they believed their genius had left them for a bit – which was alright as it was never theirs. Rather, the human was a vessel for the genius to flow through (depicted here as a little squiggly critter). Moral of the story? Don't be too hard on yourself in periods of low inspiration/creative flow. What is meant to be will be, at the time that is right for you and the world.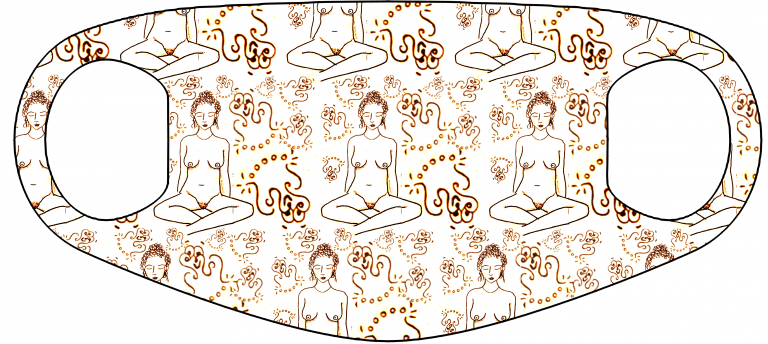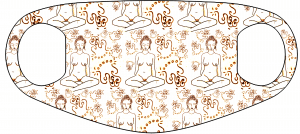 My final masks were a combination of heritage, art and activism. I really enjoyed the commitment of designating time every week to connect with people and practice new artistic techniques. Considering routine is all a bit up the left with working from home & lockdowns, a big perk was having some structure to know what day and week it was!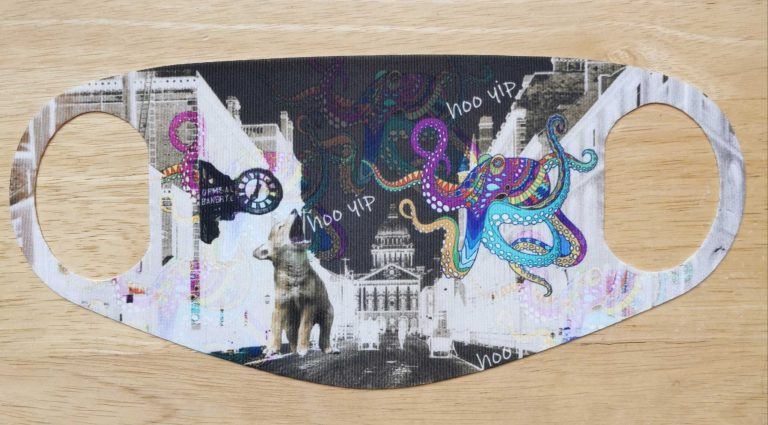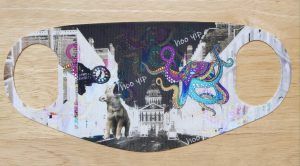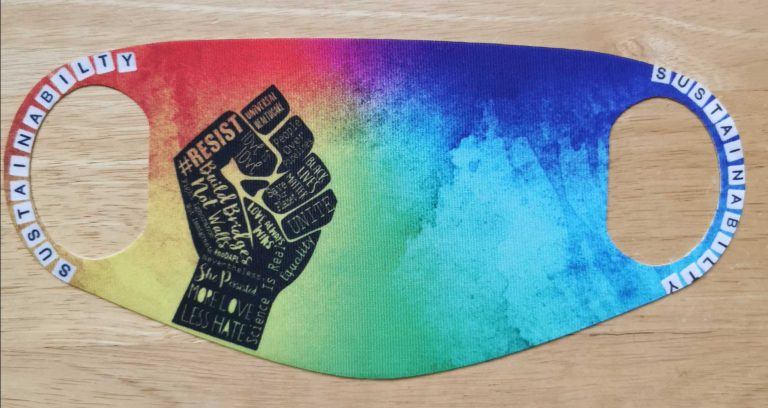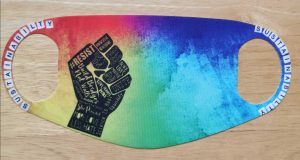 Why wear your advocacy on the inside when you can parade it around on your face?!
My embroidery mask was an eclectic mix of absent minded needle work and semi-intention. Having next to no experience with embroidery before, this was a fantastic entry into its world, surrounded by a group of creatives encouraging one another. The shared experience of practicing while on the call created a wonderfully peaceful atmosphere that I hadn't yet experienced on zoom. It was a small difference, but for everyone to feel comfortable enough to just chime up and talk, to engage, and to laugh, was really something. One session stands out, where we were all stitching away, having a laugh at our semi failed attempts of the different embroidery styles.  Where random stories were told and good old giggles were had.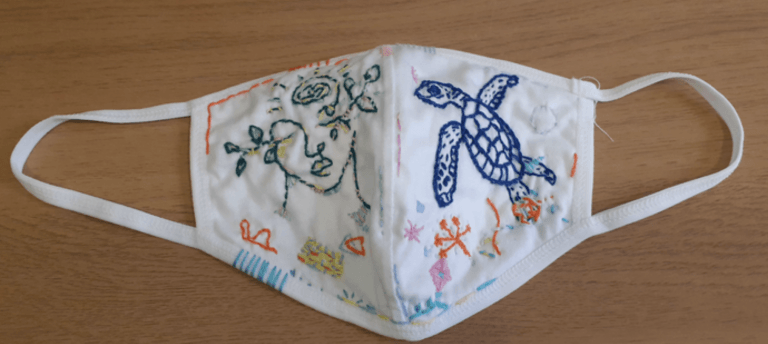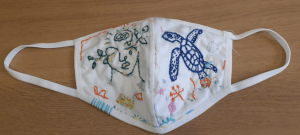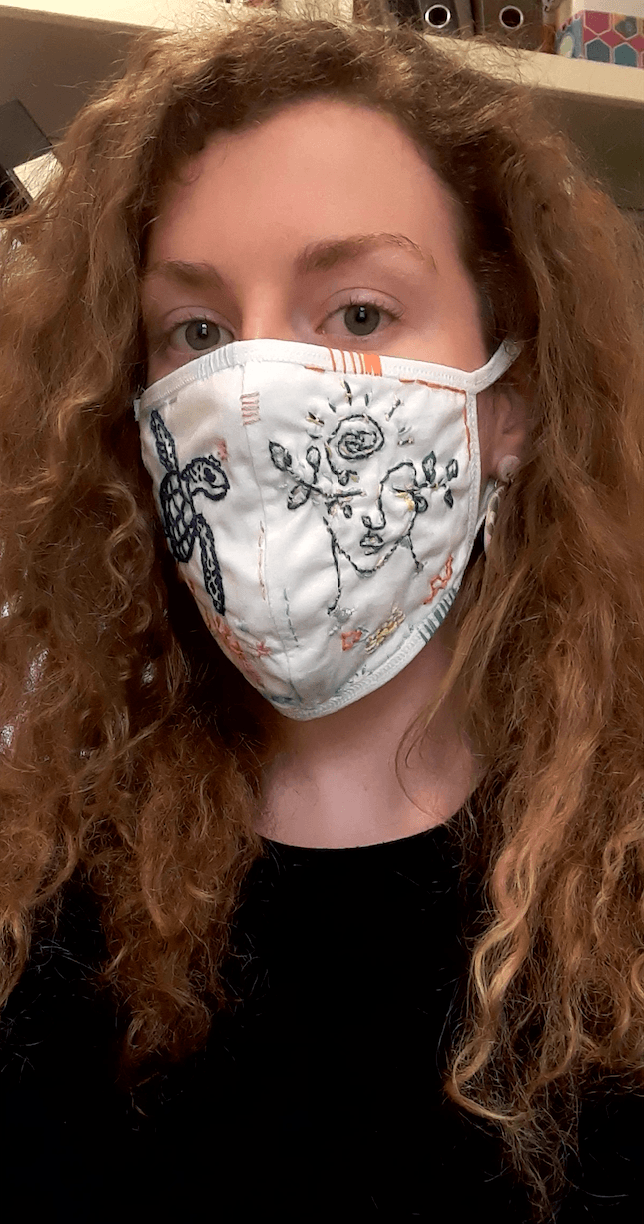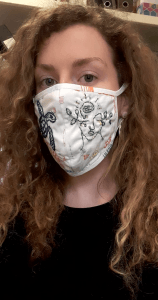 Final words
In each of the programmes, I was amazed and exceptionally grateful for the  quality and generosity. The generosity of time, experience, quality production, materials… It was truly a joy to participate. And the fact they were free.. wow. Considering the range of other programmes offered I'm a tad raging I didn't learn of RRR when I was younger!
With the lack of ability to meet new people amidst this pandemic, being welcomed into the RRR community has been a real treat. Plus, for that online version of socialising to be so fun, comfortable and easy going. A lack of pressure, judgement or expectations – just friendly faces.


Inclusivity and heartfelt kindness at the core.
RRR has a place for everyone.