Ahead of RRR's first Mental Health focussed programme next month, Sorcha Ní Cheallaigh writes about the positive role RRR has played during the Pandemic. 
It was the piccadilly line. The weekend before March 16th. Sleep deprived and late. Mindlessly en route to Holloway Road. Depressed and lucky to be on a training scheme for underrepresented communities in the arts. Painfully unaware that in a week, it would all be cancelled. I wrapped my scarf tighter around my mouth and nose. I looked around me for some kind of sign, like those signs you hear about on TV when people finally understand their destiny and find out they can fly. When I looked up, there was this little cartoon mouse, and the words "the people in your life who ask questions are not people worth having – your life insurance should be the same". I stared and in my headphones, I could hear the voice of the clean woman on Youtube, educating me on the perfect first impression. "People like when you ask them questions. People like to think you care about what they think." 
I like when people ask me things, like: 
"why are you like this?"
"what is wrong with you?" 
"have you thought about counselling?"
"do you promise not to harm yourself?"
"which season of Killing Eve is your favourite and why is it season two?"
When things went societally up the left on March 16th, I was relieved. The reality of my "real" life was pressing down. I was burnt-out. Places were louder and people more distant, everything more difficult to navigate and understand. With lockdown, I had a socially mandated command to stay in bed. Guilt-free pleasure. How could this "lockdown" be any different to those months-long depressive periods I'd experienced before? All those times when I locked myself in the house and refused to go outside, or missed school for refusing to leave my bed. My safe place. My happy place. Muscles atrophying from the lack of movement and assuaging bed sores and low blood pressure. I was a master at isolation. In solitude, I thrived.
Then April came. 14 days had passed and I refused to leave my bed only to pee or grab something to eat. I thought it was normal enough for me, but my occupational therapist noticed things were different this time. Since lockdown started, my occupational therapy meetings continued by phone, and we focused, as those sessions do, on everyday activities – getting up, getting dressed, getting out of bed – and why I wasn't doing any of it. At the end of every call, my O.T. asked "do you promise not to harm yourself?" and I'd say no, I was okay, that no, I wouldn't harm myself because my brain was doing that to me anyway. 
In the week prior to lockdown, I had travelled from Derry to Dublin, Dublin to Derry, Derry to Belfast, Belfast to London, London to Belfast, and all the way back to Derry.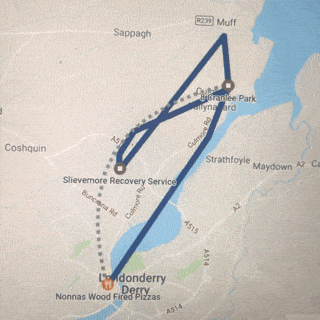 I spent my time in bed convincing myself over and over that in some horror I was going to kill my mother. On my way to the bathroom, I would inevitably touch a door handle that she would touch. Then once hooked, I waited for the social media frenzy to take hold. I scrolled through Instagram for twelve hours straight, maniacal crying at the digital lives of former friends, the fact they were still friends with one another and why that meant I as an individual was innately unlovable. I silently cried for days on end, in the shop. I touched something I later decided I wasn't going to buy? Cry. Outside on a run thinking about my family? Cry. In general. Whenever. Clockwork crying. On the occasions when I made it to the shower, I scrubbed my skin until it was shining red spots. Then I cried some more. I started Yoga with Adrienne and halfway through one practice felt like my heart was going to explode from my stomach. I lay on the floor and closed my eyes trying to remember what peace felt like in the body. Adrienne kept telling me to find my flow so I compressed all the memories of the last five years into a tiny cube of garbage for the emotional garbage people of the world to come and pick up whenever they so pleased. Finally. Eventually. Please. Tell me, why was lockdown difficult for me – an overly anxious agoraphobe who didn't leave the house anyway? Surely months at home with nowhere to be would be dreamy. And I didn't even have to deal with the fear of missing out, because everyone else was at home! Everyone! It was just like a mini government mandated breakdown… right?
At the start of lockdown, I was obsessive about the news. I watched rolling coverage. I soaked in every second in a hazy fever dream. The only part I remember was this 4-minute piece tacked on to the Channel 4 News coverage. An 18-year-old girl named Emily spoke to a reporter: 
It's not hearing about the Coronavirus, it's the 'wash your hands'. 'Wash your hands this amount of times'. 'Wash your hands to this song'. 'Wash your hands for twenty seconds'. I understand why they have to do that but I think for someone like me it's really difficult. I've worked hard in therapy to not have to constantly think I need to wash my hands, and suddenly, to be told that you need to constantly wash your hands… it's going against everything I've been working on. 
Like Emily, I have spent years talking to everyone and anyone – occupational therapists, psychologists, psychiatrists, counsellors, GPs, community psychiatric nurses, family and friends – about why I shouldn't be afraid of the 'outside'. Writing "the outside can't hurt me" over and over was pretty useless considering "Stay Home. Save Lives." was being repeated everywhere. Staying home became the honourable and good thing to do! Outside was dangerous! I should be afraid! Lockdown – what should have been a much-needed break – was nothing more than a confirmation of my deeply held irrational fears.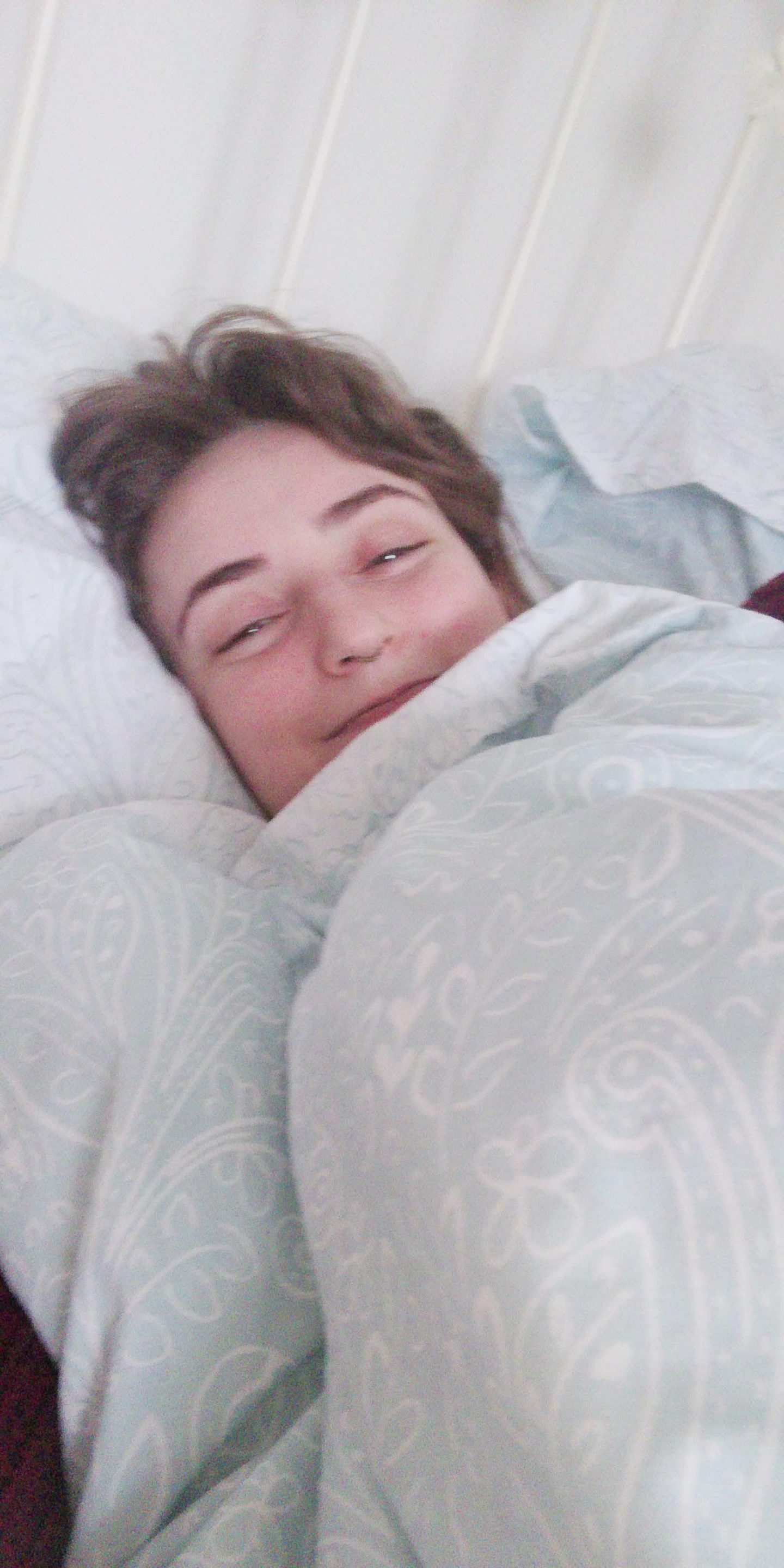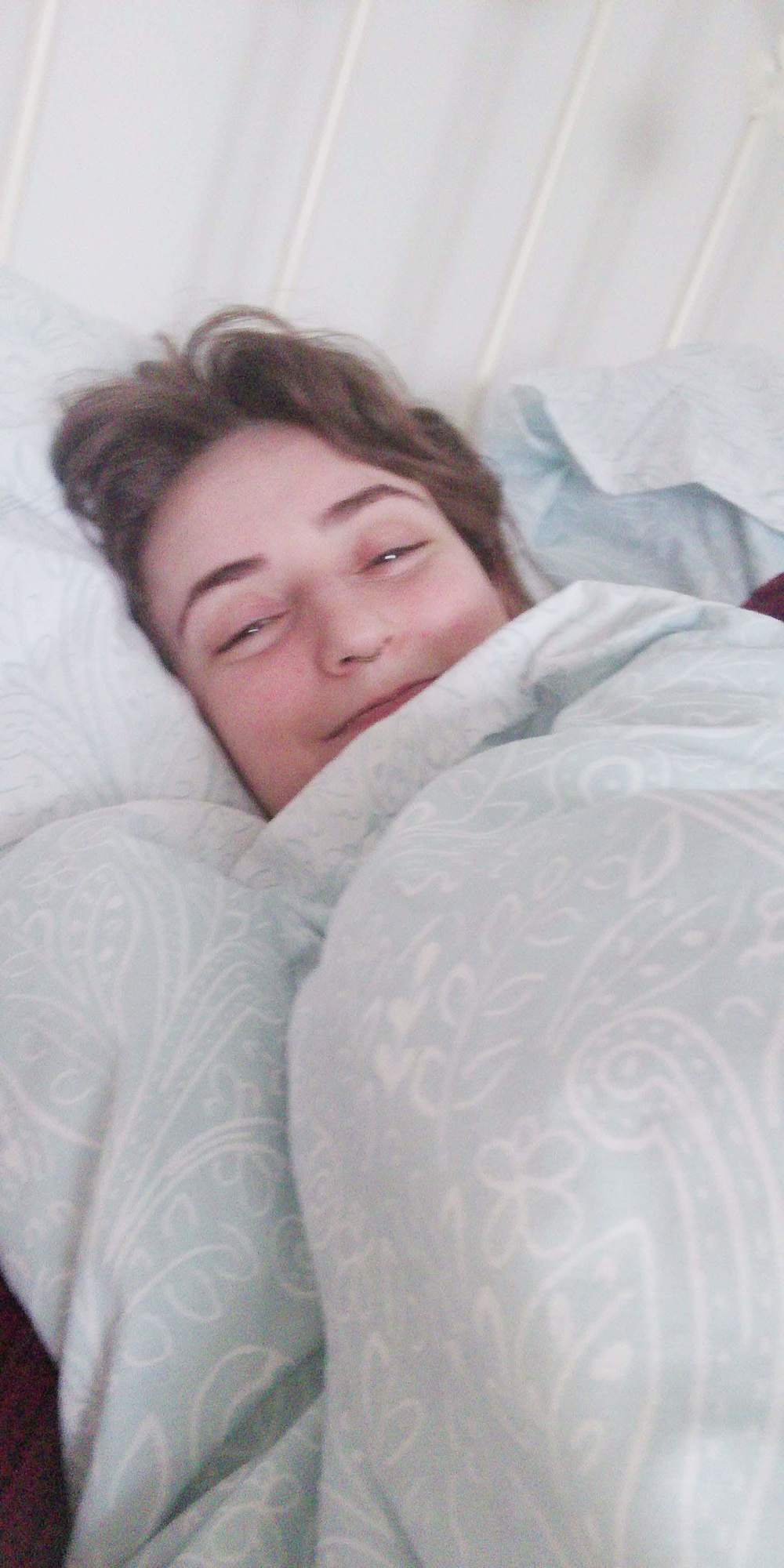 The worst part: I couldn't even stay inside. Before covid, when I had an episode, I could get my groceries delivered and anything else ordered online. But in lockdown, I had to go to Tesco. I had to go to Spar. I had to be around people in enclosed spaces and touch things they had touched. I felt permanently contaminated. Unstabling, a nightmare sewn from the worst depressive, compulsive and delusional episodes I've ever had. Yes, I was burnt out in the real world. I was bound to break down somewhere down the line. But lockdown expedited the process. And all behind closed doors. My occupational therapy appointments might have moved toward phone consultations, but little else did. On March 16th, my support systems – once so iron-clad – disappeared. I lost everything. My weekly art therapy sessions, my community mindfulness sessions, my support service drop-in and social centre, even my GP. I lost any future promises of work and possibilities, including my training scheme. I lost any small pick-me-ups that worked as a crutch for a bad day. My barista made coffee, that showed me everything was okay. Someone made me this coffee, it's not burnt, it tastes good and that means I'm okay. I sat at home and burned every single cup.
I thought it was just me. But according to the RSPH, over two in three a.k.a. 70% of 18 to 24 year olds have felt anxious about the future during lockdown. Instagram also tops the RSPH polls as the most detrimental social media for young people's mental health and wellbeing, with heavy usage intensifying the problem. After spending a month crying and scrolling through that damn platform – and navigating all the erratic and unmanageable emotions it triggered – Instagram finally did a good thing. A promoted advert for something called Reimagine Remake-something-something came up. I was sleep deprived and tired and looking for a sign and when my daddaí died back in 2009, my mammaí told me that keeping busy is the only cure for emotional distress. So now when sad, when stressed, I will sign up for anything and everything going. Education education education. Fitness fitness fitness. Run run run. Using anything and everything to build me up to a maniacal high and the eventual emotional car crash when I fail to keep up. But Reimagine seemed kind of different. It seemed to be fun and friendly and buzzy and bright so I signed up to a talk on April 22nd with Charlotte Reynolds on sustainable fashion, and fashion history as seen through the Ulster Museum collections. 
When the morning came, I got showered. I got dressed. April 22nd is my birthday. In lockdown, I turned 24. My gift to myself was a reason to get washed and out of bed. I looked in the mirror surprised as anyone to have reached 24 with a nasty mental health history in tow. And here I was. Unemployed, living with my mother and full of Mirtazapine weight gain. I had stopped getting dressed because my clothes didn't fit me anymore. If they did, thick thighs and love handles seeped out from the side. But today I had no choice. The email said to wear something that was special to us. People would actually see me. It was vital I seemed like I was holding it together. I had to hide any sight of the side effects. A bell-arm midnight-blue playsuit worn over a black velvet turtleneck. Tighter than before, now slightly unadulterated, but I was safe in the knowledge that on Zoom I was nothing more than a talking head with a bit of neck and torso. I didn't care that they couldn't be seen, I zipped my new Edie Sedgewick boots. I wore glitter and lipstick and thought about what I would say. It was Fashion Revolution week and I was reminded of why I loved expressing myself even by just choosing how I was going to dress.
There's a lot I can say about how things changed for me once I signed up for RRR. When lockdown happened I lost every project I'd spent the last year developing. I didn't realise how this lack of purpose could affect me so dramatically. But it did. I shouldn't have been that surprised, being employed can be "a vital step to recovery". According to the mental health foundation 85% of those who are out of work experience mental ill health. I think what RRR gave me was a purpose. A small reason to get out of bed. Then get dressed. Then to excitedly work on my makeup and my visual expression. In the months prior to lockdown, I had forgotten why I loved museums and heritage so damn much. As Charlotte spoke about her favourite collection pieces and the importance of textiles and fashion in the mapping of history, it reignited something somewhere inside me that brought me… joy? Yea, joy! I felt actual joy! Honest to god, I was as shocked as anyone that I could still feel such a thing. I was hanging out and chatting with people who cared about the same things I did. Who approached history like I did. People that were happy to talk about the minutiae of a single pocket or seam for minutes or hours.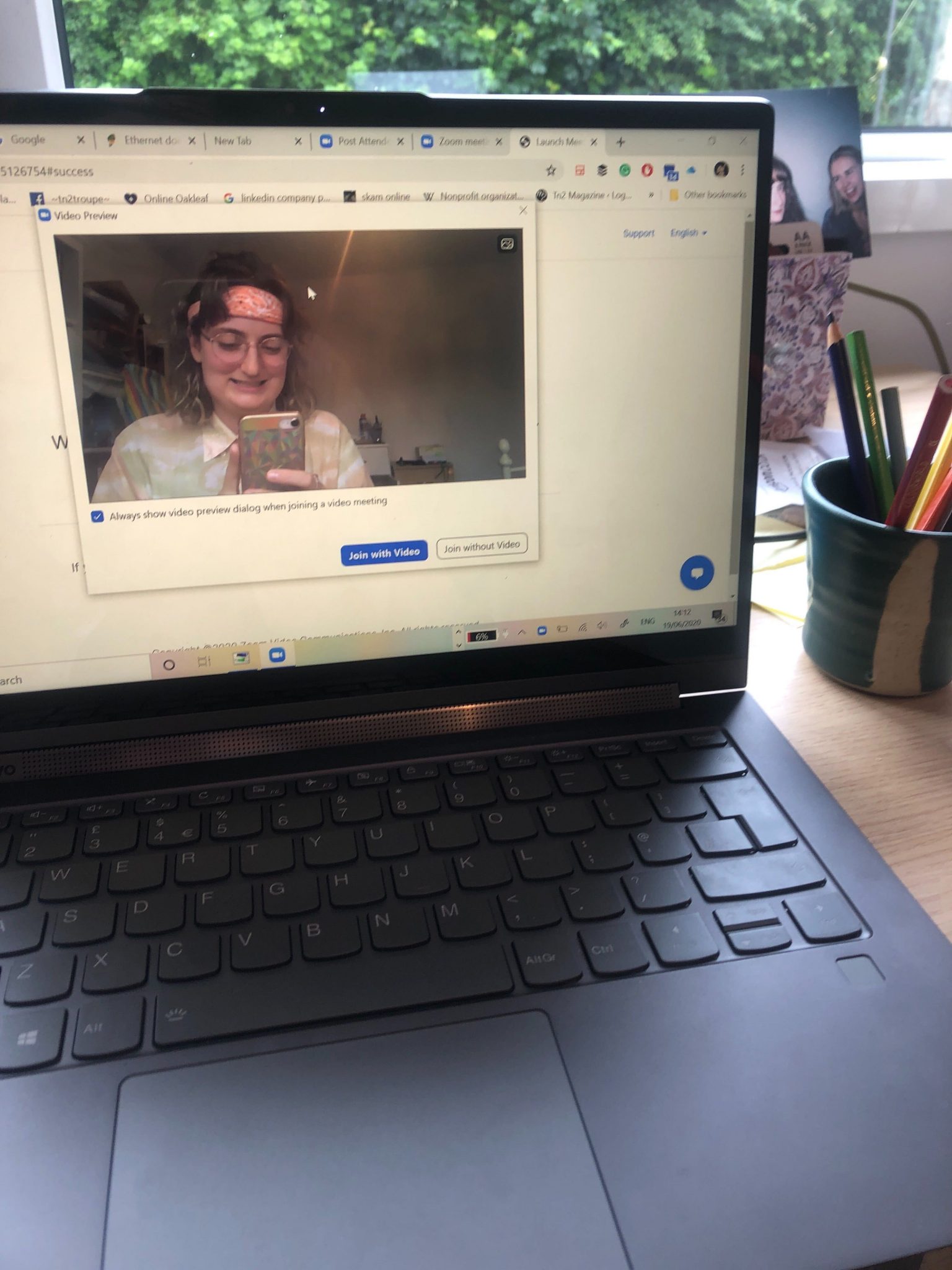 If that had been it, I honestly would have been happy. I was set to fall back into the great unwashed bed soup, but at least I was happy for a day and had a great birthday and felt confident enough to go to Zoom birthday drinks with school friends and generally be myself.  But at the end of the call, Stephen said to everyone about Slack. They had a workplace app called Slack. "You should join it!" I agreed but didn't hold out much hope. I knew better now how things worked in the arts. I would be on a project and the funding would suddenly get cut. People were busy. Overworked and underpaid. People needed to tick boxes. They needed to get things done. But for the first time in a long time, I was part of an insanely active arts community. A myriad of voices and programmes and consistent conversations and discussions and something called a weekly drawing challenge? I expected to show up and just show myself up because in all honesty, I can't draw. But hey, it was time to try new things and find new reasons to get up and washed and dressed and maintain purpose and normalcy. What I expected to be a fearful anxiety-inducing hour of trying to produce the best art anyone has ever seen was a really ridiculous game-show style showdown and I had to turn off my camera twice because I was laughing so damn hard my coffee came down my nose. Twice. Imagine the Netflix show Nailed-It, if everyone had 30 seconds to draw an NI museum collections piece simply by the title.As the rounds progressed, you had to get involved in the action. It was a kind of historical reenactment. Or in my case bastardisation. But I was laughing. And having fun. With other people! Who seemed to be laughing with me? And enjoy my company.
But things don't magically get better. I found this class community. I was spending time with amazing people in a fun social capacity. I had all these new and amazing opportunities to study for free under some of the most amazing artists and curators. But, if you're mentally ill, or suffer from any kind of chronic illness, you know things don't just get better. We don't just close the book and its great and la-di-dah they lived so happily so forever after la la. A week later, the sads came back with a vengeance. The self doubt. The idea of myself as a toxic individual who only existed to make the lives of others worse. I decided I would stop going. End the things I briefly enjoyed. I stopped going to the weekly drawing challenge. I stopped myself from signing up to courses. I had spiralled, and only missed only one week, when I got a selection of exceptionally kind messages from Stephen from RRR, reaching out and checking-in. It had been so long since someone cared about my being there. So long since someone actually seemed to really care, not just because it was their job but because they were at their heart kind humans. I don't know how the team at RRR manage to do it, but they run a top class arts education program with showcase opportunities and invaluable work experience all while caring, like actually caring, about their participants. After reading the messages, I instantly came back to the project and got stuck in. I signed up and completed courses in Creative Writing, Zine Making and 3-D Remixing. I was a part of the RRR Virtual Pride Float. I've attended courses just for the craic on Illustration, Comic Book Making, and Stop Motion Animation. I branched out and joined new partnerships with the Nerve Centre, Making the Future and Kick the Dust. Within the project, I fostered a new and open path of communication regarding my mental and physical health. I could communicate my mental and physical needs as needed to those I'm working alongside. I will be able to take these amazing skills back into employment. And although I'm not there yet, I know I'm a hell of a lot closer than I was back in February.
The weirdest part? I've only just started meeting people from the project in "real life". Last week I met up with Hannah and Niamh, our heritage Malaga crew. When corona passes, we might even get to go on a gal's holiday to attend symposiums on youth involvement in museums across Europe. And I'm so damn excited to meet the talking heads I've come to know as a little online refuge and family; the RRR team. I am a stronger human, thanks to RRR. Thanks to the vote of confidence from RRR and an amazing literary/visual arts magazine called Abridged, I applied for a masters programme in Poetry at Queens that I will be starting in the coming weeks. So there we have it, lockdown is easing. A new set of things to get anxious about. I know I'm not perfect yet and there's a lot of crying and panicking that happens in between sessions that will continue to happen in future. But at least I have this community. I used to say RRR was a little bit like Cheers, a sitcom from the 80s I watch in the early mornings. Because sometimes you just wanna go where everybody knows your name, and they're always glad you came.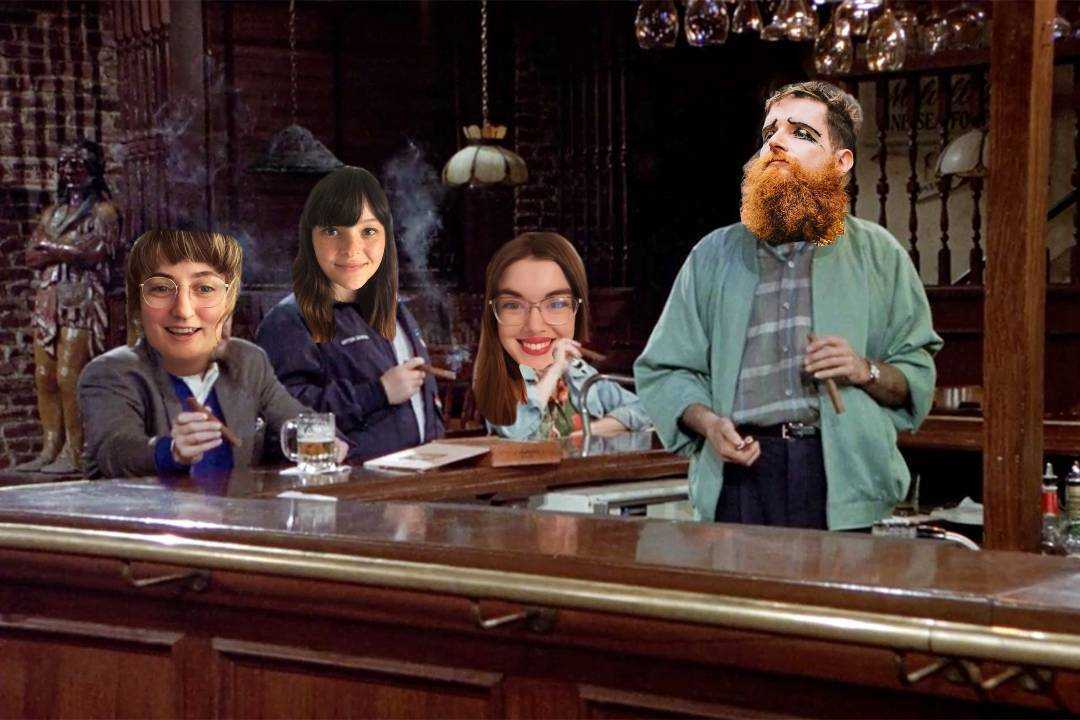 www.channel4.com/news/mental-health-charities-report-rise-in-calls-since-the-coronavirus-crisis
www.rsph.org.uk/about-us/news/rsph-calls-for-more-mental-health-support-for-young-people-in-lockdown.html
RRR's first Mental Health focussed programme takes place 9,10,11th October and is being Co-curated by Sorcha. Details coming very soon.
Main image by Vanessa Ifediora