BY CLAIRE MOONEY
What does Museum Week look like when our museums are closed? While the doors of our museums were firmly shut during Museum Week 2020, Reimagine Remake Replay and the museums and arts organisations of the world opened our hearts and minds to shared stories, objects, and our heritage. Through social media, interactive websites, and numerous Zoom meetings and Instagram Live videos, we had an insight into collections, behind the scenes insights from curators and all while exploring at our own pace.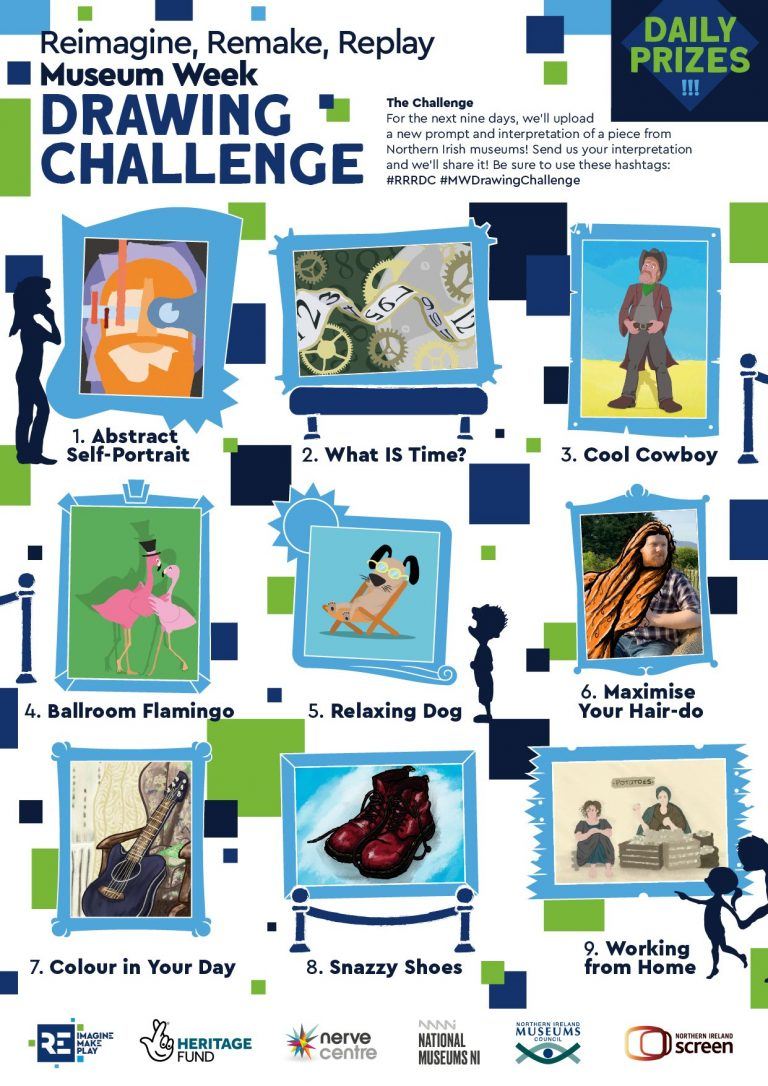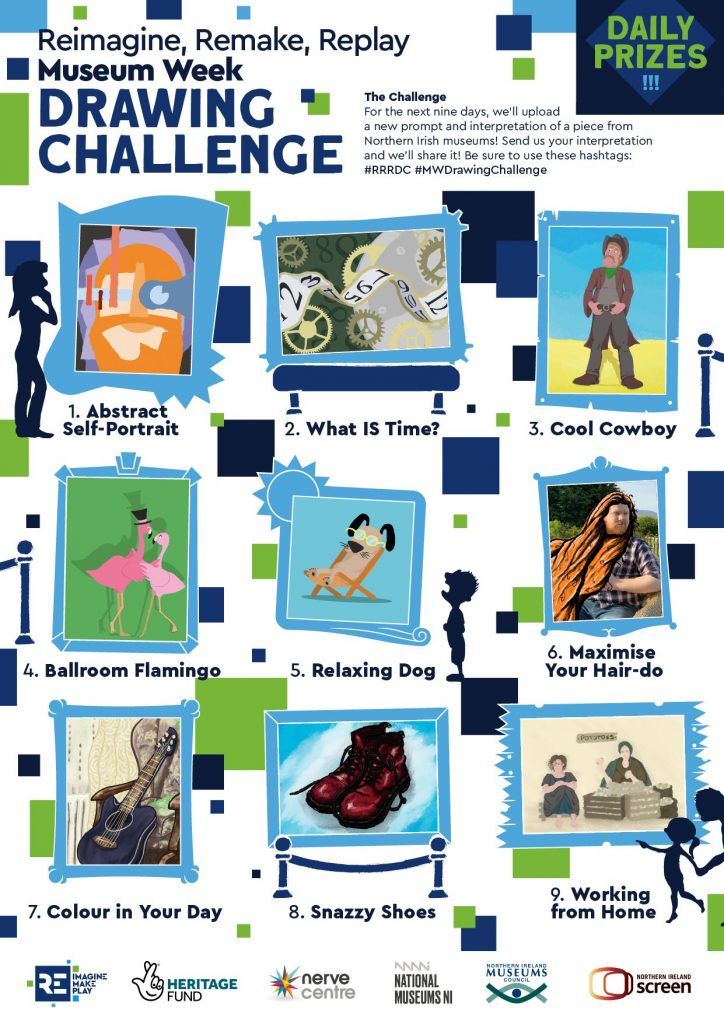 To get Museum Week started, Reimagine Remake Replay launched a 9 day Drawing Challenge. RRR participants Natalie Cole and Ruairí Jordan worked with the RRR team and local and national museums to creatively reflect on objects and artworks from the collections, creating drawing prompts from these museum archives. As someone who can be shy on the drawing side of things, the opportunity to be involved with a bunch of friendly people and have some fun with museum objects and ideas in an open minded way won the day. I got my thinking cap on and took part!
Throughout the week a personal favourite amongst the submissions was Lucinda's interpretation of "Maximise Your Hair-do" for day 6 of the Drawing Challenge. Although not strictly a drawing Stephen Millar (YEO – Youth Engagement Officer) said, "it was too good not to crown the winner of Day 6." The challenge was inspired by the 1782 oil painting from the Ulster Museum's collections, entitled Mrs.William Magee and painted by Joseph Wilson. This piece was reinterpreted for the challenge prompt by Ruairí Jordan and it saw Lucinda craft herself into a modern artwork with an impressive 186cm long hair do, comprised of 16 scarves, 3 bobby pins and Lucinda's own lovely locks. Have a look at these photos, I'm sure you'd agree Lucinda was a well-deserved winner of day 6!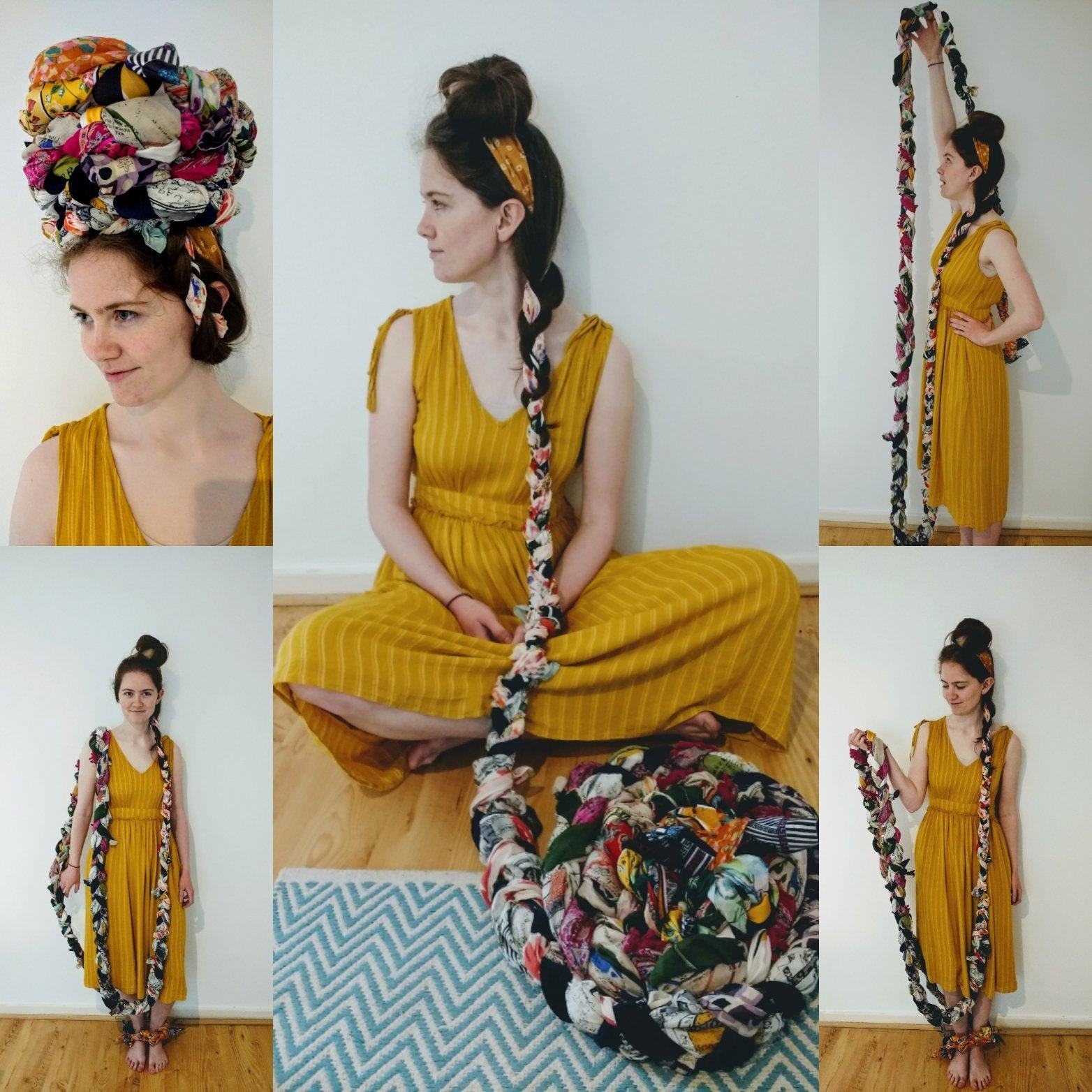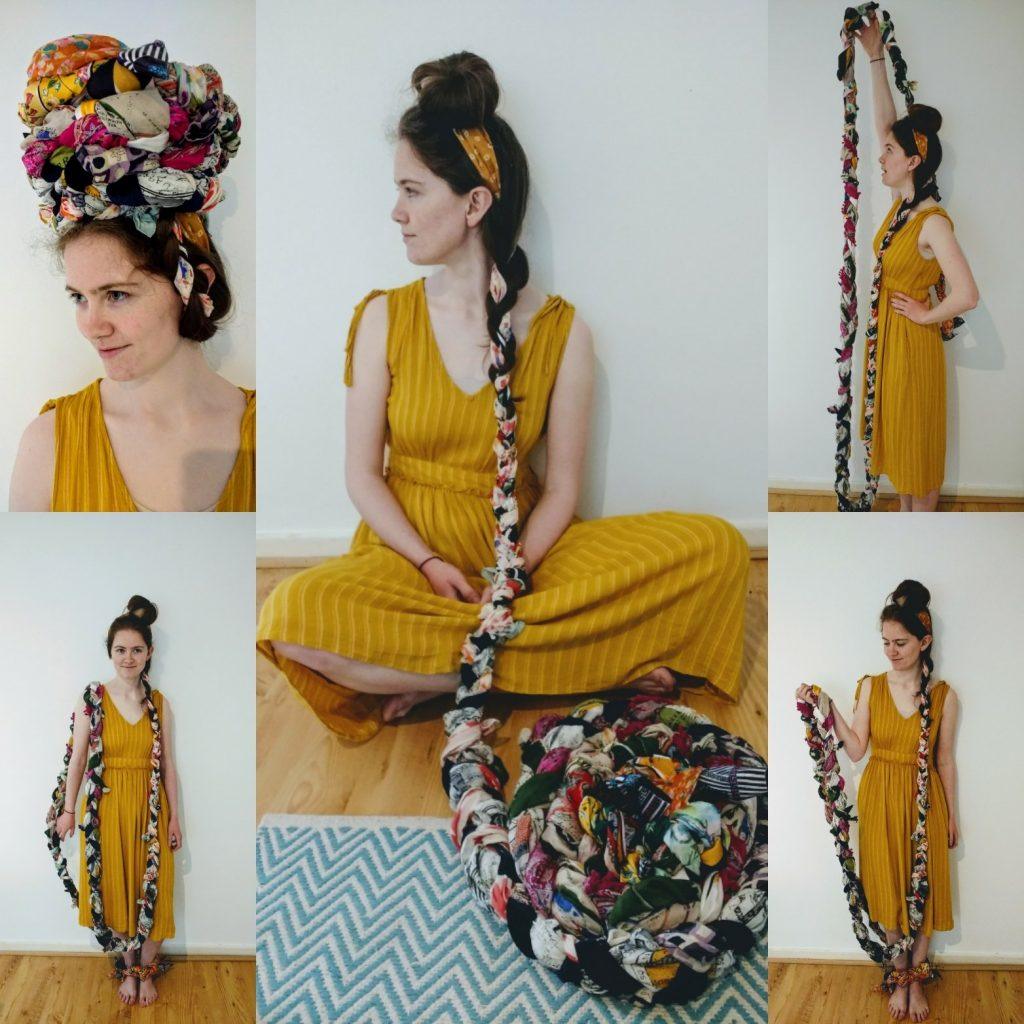 Other entries ranged from graphic illustrations, photography and some more personal delves into old photos and creative ideas – a really varied range from beautiful artwork to comical creations. This challenge has seen it all! Check out the RRR Twitter thread and Instagram highlights if you haven't been following the challenge, so many submissions made me really smile and I had fun taking part.
Separate from the Museum Week Drawing Challenge, the RRR team and participants take part in weekly Creative Craic games and workshops. For example, there is a Drawing Game –  an hour long session of fun as they sketch and re-enact various museum objects and artworks with just the title. Especially for Museum Week, two special guests and NMNI curators Clare Ablett and Anna Liesching joined the session with a new game entitled 'Spoof or Truth'. I even saw several pets get involved, certainly something we couldn't see in Ulster Museum. This was just another one of the bright sides of online engagement during lockdown, which are bound to raise a smile.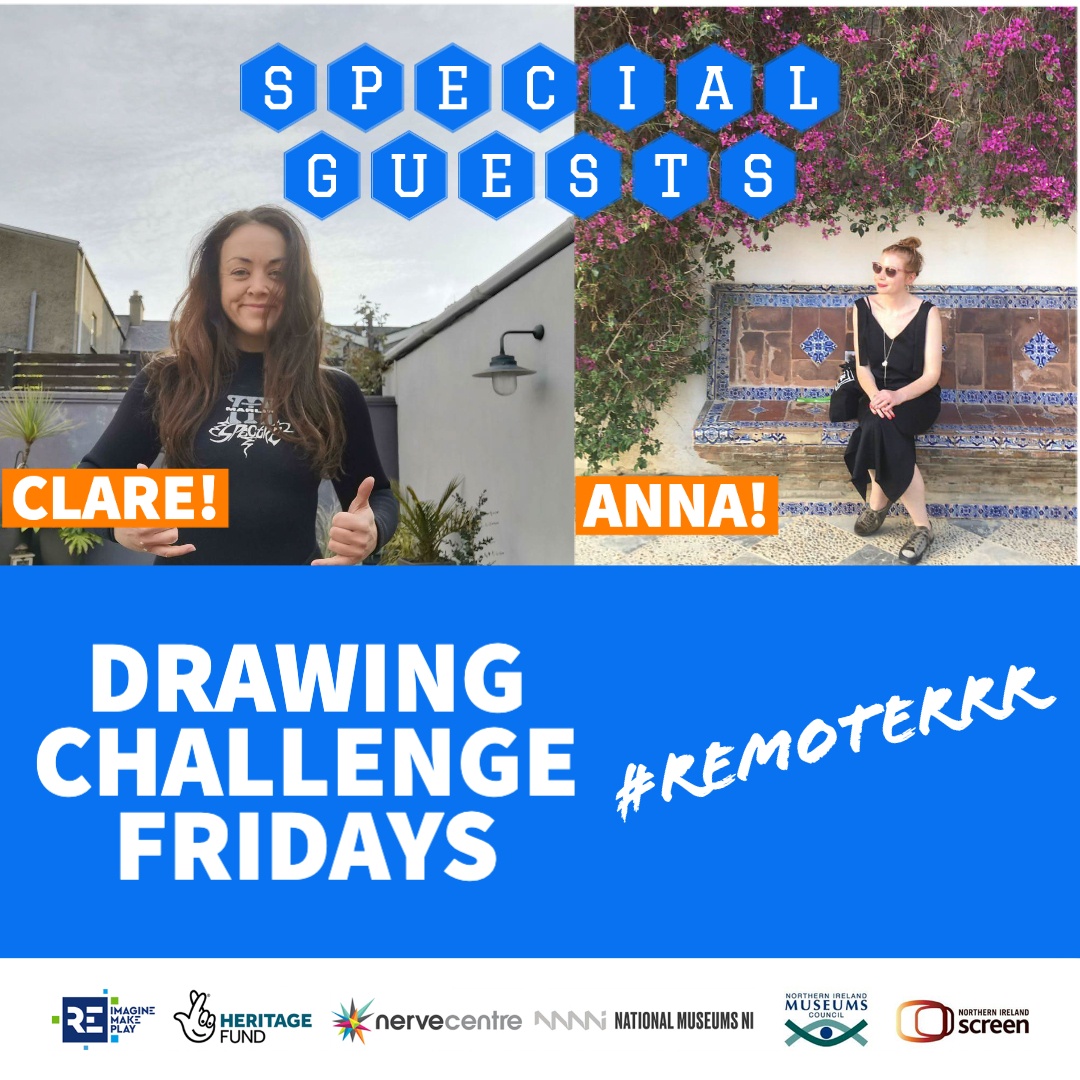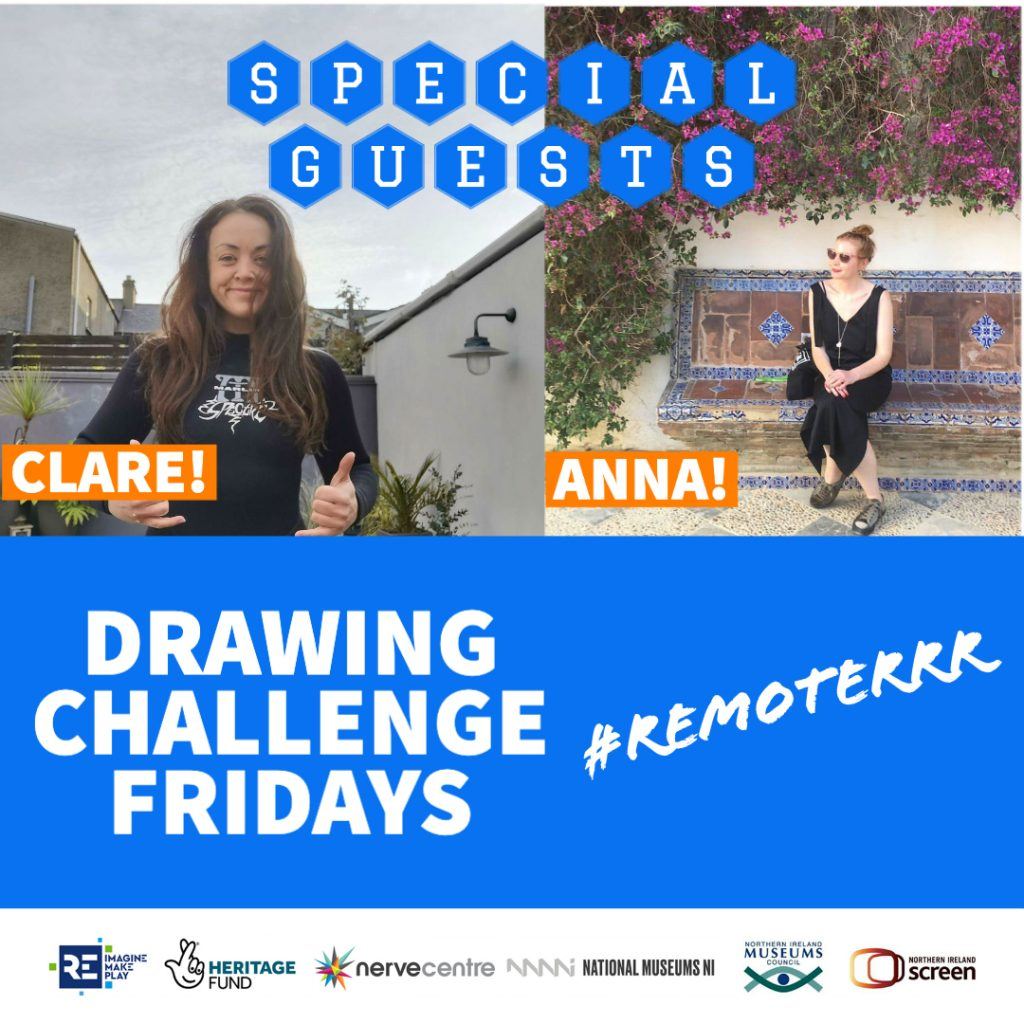 The last day in Museum Week is usually a day for winding down, but of course that's not how RRR operate! As Museum Week 2020 came to an end, RRR in partnership with the 'Making the Future' project began their online 'In Conversation With…' discussions. The first discussion was led by RRR participant
Hannah Sharp, a designer and storyteller who interviewed Belfast based artist and designer James Ashe. A lovely way to spend a Sunday afternoon  – hearing two artists discuss their art practice, what it's like to graduate from Art College and develop an art practice while exploring topics including politics, mental health and the impacts of today's pandemic.
In the weeks to come the RRR 'In Conversation With…' series will explore the artwork and practice of Ursula Burke, who recently opened her exhibition 'A False Dawn' in Ulster Museum, and Donovan Wylie, a photographer who documented turbulent times during the Troubles. Keep an eye on social media to sign up for these discussions!
Personal Favourites
Not necessarily Museum Week 2020 related but there are a few personal favourites I've really enjoyed during lockdown that I'd love to share. There are a multitude of other resources and numerous museums are really digging deep in their collections to offer us some respite in lockdown but one blog post can only fit a few!
The 'Generations' exhibition in the National Design and Craft Gallery, Kilkenny has a walkthrough on YouTube which features craft objects. As a maker myself, this was a lovely opportunity to get an insight into this exhibition and hear how family members are working together and sharing making skills in our modern world. The exhibition has an ethos which is especially prevalent today, despite it being curated before the lockdown. 'Generations' has the potential to foster similar attitudes of creative thinking and sharing with our nearest and dearest.
The Annual RUA show was held in Ulster Museum from 18th October 2019 to 5th January 2020 and is now available to see in a virtual tour. This exhibition was held in the same space as Ursula Burke's 'A False Dawn' which opened 7th February and the stark contrasts visually and in the emotions evoked by the two exhibitions is testament to just how much thought, organisation and consideration goes into a show! Not only is an exhibition about creating and gathering objects and artwork but it is about the space, working with the audience, and lighting the space for just the right effect. Certainly, check them both out and see what you think!
If you're keen to keep exploring, checkout The British Museum YouTube page to see Curator's Corner for great quality, interesting weekly videos about the collections.
Trasna na Tire (Across the Country) are an organisation who have moved to online lectures and had a talk recently  (held over Zoom) entitled 'Tales from Ireland's Fairy Forts by Eddie Lenihan'. Eddie is one of the last few traditional storytellers/Seanachaí still working in Ireland, his storytelling session was recorded and posted on YouTube.
The highlight of Museum Week 2020 for me has been the focus on participation. Be it discussions with curators, involving audiences just like RRR does, or making content accessible irrelevant of person and place. Museum objects and artworks, which are usually hidden behind books, barriers and bureaucracy, have been harnessed for us to reflect on. Museum Week 2020 has been much less about the dusty objects, but more about the stories and engagement at our own pace. Here's hoping that this will not become a distant memory of Museum Week 2020, but it will become a lasting facet of our Modern Museum.
Last week I wondered, what Museum Week looks like when our museums are closed. To my delight, Museum Week 2020 has been engaging, informative, accessible and available to us with our favourite mug in hand, from the comfort of our own homes.