BY MARY MCCRINK
After a long year of being in a pandemic, along came The Great Newry Bake-Off which is just what we all needed to socialise, bake, and create!
The set up itself was first class, and the Great Newry Bake-Off was introduced by the two bubbly hosts Niamh and Clodagh who took us through the plan for the fun day ahead. Aine Boyle, a most passionate and helpful baker, supported us with the baking using Mary Berry's Victoria Sponge cake recipe, where we mixed and whisked the ingredients which were then placed in the ovens to bake.
Whilst the cakes were rising, we were led by Declan, a lovely staff member who took us on a tour of the Newry Museum, which was previously the famous McCann's Newry Bakery, established in 1837. To my surprise, I was completely unaware that Newry Museum was previously a bakery, especially given that I have lived in the Newry and Mourne area all my life. As Declan took us around the Newry Museum, our hunt for inspiration for our cakes began, which was history in the baking…
We took photographs of certain objects that we saw throughout the museum which influenced ideas for our cakes. Initially I had no idea how to bake or what piece of history to use as inspiration for my cake, but I thought I would be a real whisk-taker (pardon the pun) and choose a hand-written letter dated the 12th of November 1949, which was written during a nightshift at McCann's bakery then placed in a bottle. The letter included a list of names and underneath stated "to them that find this, please publish" which I found quite humorous and ironic given it was now proudly published in the Newry Museum, which was originally the bakery!
We returned to the room with photographs of pieces of Newry's history. Using the iPads, we designed our cake on the app Pro-create. Hannah was extremely helpful in taking us through Pro-create step-by-step and had visual instructions also available for everyone. This was a really fun way to design our cakes, whilst also learning new skills on designing using the pro-create app. After a tasty sandwich and tea break, the cakes were out of the oven… and we were off… little did we know that time would fly by, and it was only a batter of time until the McCann's would arrive to judge the cakes. Baker Aine Boyle supported us icing our cakes with different types of icing – which turned out mouth-wateringly delicious!
The craic was 90 throughout the bake-off and everyone grew more competitive as time went on which made it even more exciting. The countdown was on… and time was up before we knew it! Jenny and Madeleine McCann arrived to judge the cakes, which were all laid out at the top table, alongside our cake designs on pro-create. They judged the cakes on taste, design, and the cake itself. After talking through each cake… my cake was chosen as the winner! I was honoured to be awarded with a bakers' hat and a beautiful glass cake stand, which had the Great Newry Bake-Off 2021 laser engraved into it.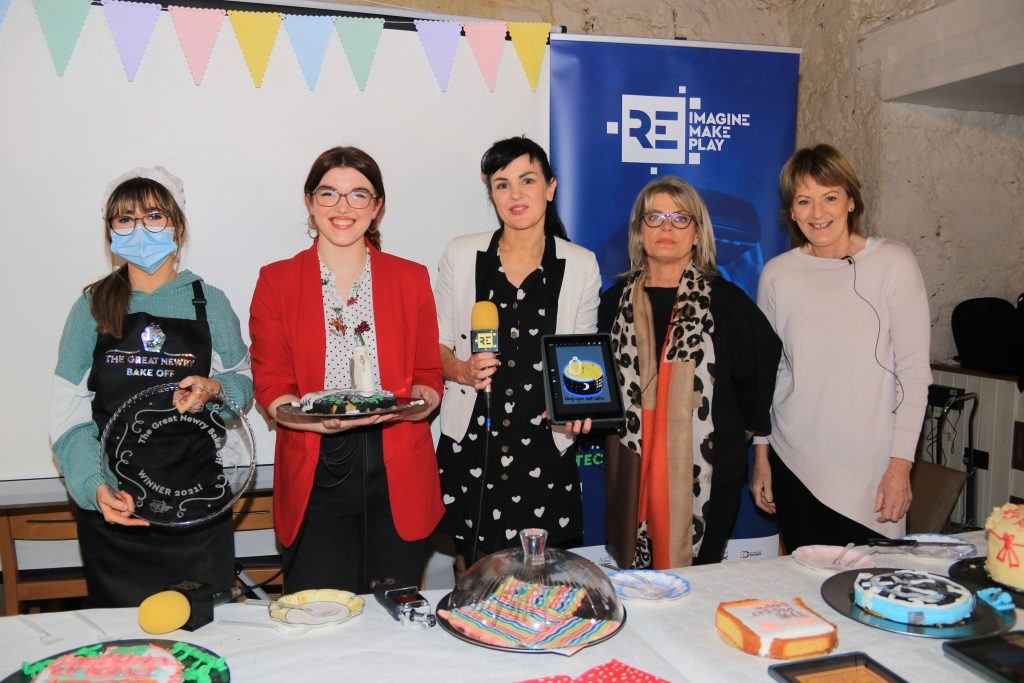 History is such an important part of our culture and our communities, and I am so grateful to have been part of this day. Learning to bake, ice a cake, and use pro-create was a creative way to learn about the history of Newry, thanks to Reimagine, Remake, Replay.
Thanks again to Clodagh, Niamh, Stephen, Hannah and all the staff members involved for this fantastic day. I would highly recommend for anyone who would like to bake, get creative, and get out for a day's craic – which is really needed after the year we have had! Winning for me was the icing on the cake…