Youth Ambassador Niamh Kelly has caught up with NMNI's Charlotte McReynolds (Curator of Art, Fashion & Textiles) to talk all things fashion, including Fashion Revolution Week and how you can partake in our upcoming online fashion workshop, Stay IN Style.
N: Charlotte, thanks so much for taking the time to answer these questions. Many of our participants will know you already from your involvement in the project. You've been great at involving us in your work, from giving us tours of your fashion exhibitions to helping us access objects to remake.  I wonder, what are your reflections on the project? Do you find it has made a young audience more accessible to you and offered new ways to engage? Have you found any of the ways that we've used tech interesting?
C: Not a problem, it's my pleasure. I think being involved in RRR has taught me a lot about how museums can use digital tech to get young people excited about the collections. For instance, I'm not sure if many 18-25 year olds who aren't fashion students would be that keen to come here me speak about the fashion collection, but giving them the opportunity to learn a really useful new skill like 3D printing, gif-making, event planning using social media, and then incorporating that into a fashion collection workshop has the double benefit of giving them more tech savy, whilst also inspiring a closer connection to objects and topics they might not have considered before. And it's a two way street – an added benefit of being part RRR has meant that my social media and tech skills have improved, meaning I'm better at sharing the collections digitally than I had been previously. Right now as we're all staying safe at home, those skills are more vital than ever.
N: I'd definitely agree those skills are vital more now than ever and that even we on the project, who are used to interacting via technology, are having to rethink how we can engage with museum collections remotely.  It's great to hear that the engagement works both ways and your description certainly reflects my experience of discovering a side to the museum that I didn't know existed. For those who don't know you, it would be great to hear a bit more about your role as a curator at the Ulster Museum.
C: I'm a Curator of Art at the Ulster Museum, where I am responsible for the museum's collection of Fashion, Textiles, Jewellery, and even the creepy doll collection as well!
The collection contains about 5000 or so items and spans from the seventeenth century right up to today's designer fashions. A surprising part of my job includes making decisions about what designer and highstreet 'outfits of year' the Ulster Museum will add to its permanent collection. Recent additions include Dior's 'We Should All Be Feminists' t-shirt, Off White, Calvin Klein, and Richard Quinn.
I'm also responsible for handling donations that may become part of the museum's collection, and I come up with ideas, research and mount new fashion exhibitions and displays every year.
N: It sounds so exciting! I'd urge anyone to visit your exhibitions once they get the chance to again, having being introduced to them through the project. We are also very lucky that we have the ability to browse some of NMNI's collection online. What's your favourite piece from the NMNI collection at the minute?
C: I love everything in the collection because all of it is unique and all of it tells its own story, but there are pieces that as a curator excite you more at different times because they might be more to the forefront of your mind for whatever reason. Right now, I'm thinking a lot about the Richard Quinn sequinned puffball dress that was purchased for the collection last year. It was the last thing I put on display before having to start working from home, so I hope its holding up okay.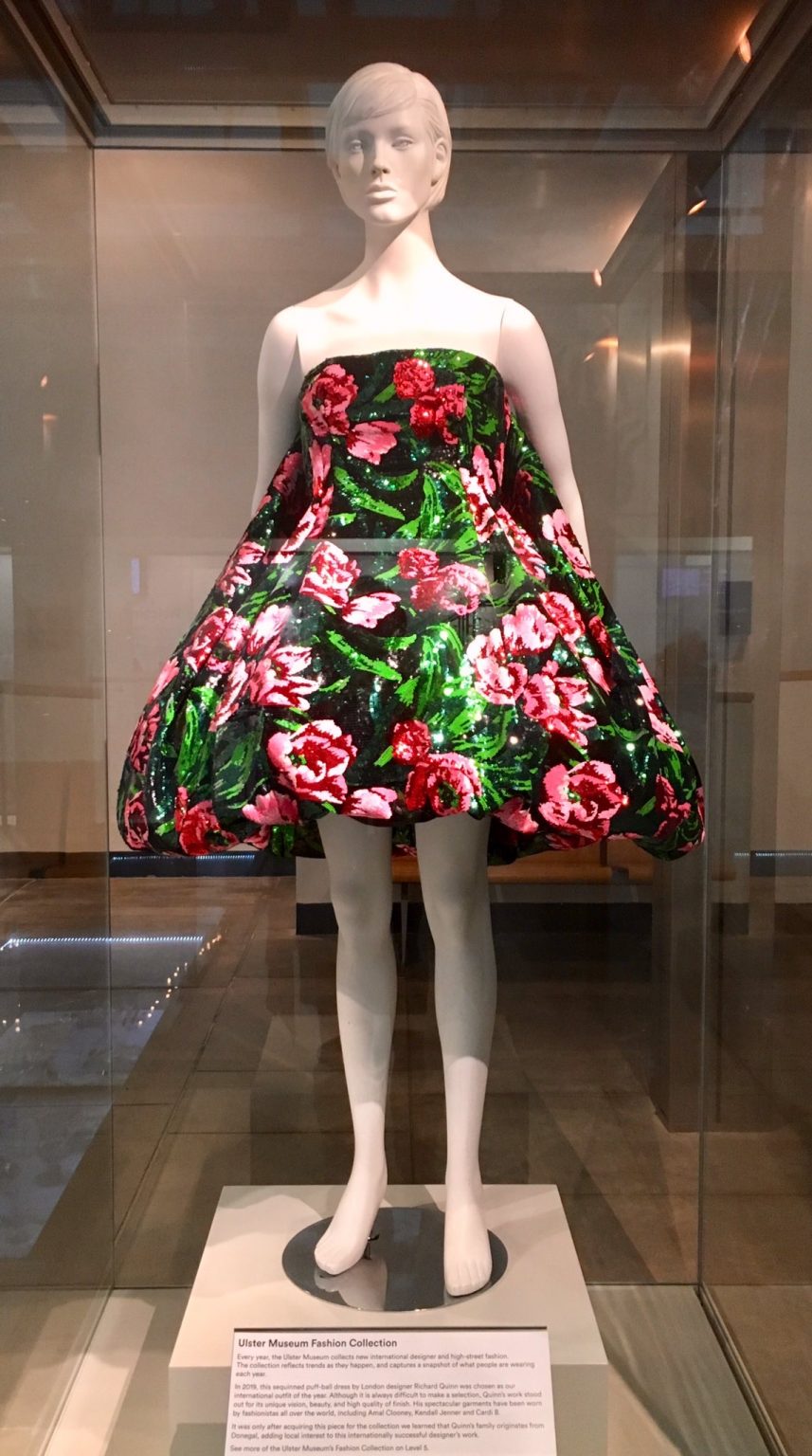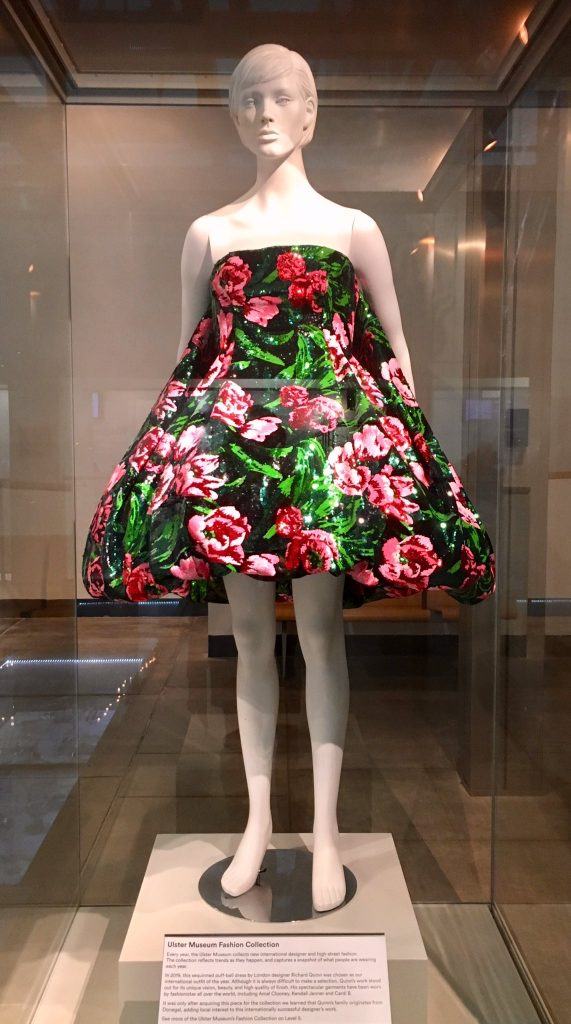 N: We've got a picture of it here and I think it looks amazing. If you could create any exhibition, regardless of what the museum has in its collection, what would it be on?
C: I'm given a lot of freedom when it to comes to exhibitions – the last two that I've done have already been on topics that I find really interesting. Fashion & Feminism, and Vice Versa both explore gender politics in fashion from different angles. Looking forward, however, I love the eighteenth century and would really enjoy doing a large scale exhibition on eighteenth century style with both older pieces and modern day fashion that takes inspiration from the era.
If I could get my hands on modern day couture, I would love to do an exhibition of Iris van Herpen's designs and explore the theme of technology in fashion. I'd also love to display works by Guo Pei in the museum someday. I'd love to do a fashion and literature exhibition someday. Some writers are obsessed with describing their characters' outfits and that's very interesting.
If we had more examples of sustainable fashion in the collection, I think it would be really beneficial to a big exhibition on that topic. We recently purchased a beautiful dress by the sustainable design team Teatum Jones, so they are a good start. Richard Quinn also promotes sustainability in his fashion.
In a few years' time it will be the 50th anniversary of the awful fire that destroyed the Ulster Museum's original fashion collection. I would love to do a large scale exhibition celebrating how far the collection has come since then, and maybe even bring in loans from modern designers who support the museum.
N: That's something I really enjoy about your exhibitions, how you look at fashion through the lens of social issues, such as gender politics, but also flip it to see what insights fashion can give us to those very issues. To steal the term from your current exhibition – vice versa! I'm sure everyone on this project would love to see a Fashion & Technology exhibition and to be involved in that. A Fashion & Literature exhibition would be very close to my own heart. I hope these dream exhibitions can become reality someday.
We're doing this interview in time for Fashion Revolution Week. For any readers you don't know much about this, every year Fashion Revolution, a global movement, host a week of events to mark the anniversary of the Rana Plaza factory collapse, which killed 1,138 people and injured many more in 2013. This is to encourage millions of people to come together to campaign for systemic change in the fashion industry. You can read more about Fashion Revolution on their website.
Remote engagement was mentioned earlier – You're hosting a virtual workshop with us, Stay In Style, on Wednesday 22nd at 2pm. Why don't you explain what we'll be doing?
C: It's going to be on the theme of 'Fashion Love Stories'!
Although we don't usually think too much about them, our clothes are often very meaningful to us.
So that's why I'm asking that on Wed 22nd  participants to get all dressed in a much loved outfit/garment and share their fashion love story on Zoom (or you can just bring your favourite garment if dressing up isn't your thing). I would like to hear why people have chosen certain outfits and for them to share what they mean to them/why they care about them. I think Stephen and Clodagh as well as myself have all been roped into dressing up for this so we'll be starting off and breaking the ice. You can choose anything – evening wear, favourite jacket, a hand-me-down jumper – anything! The only dress code is that it is something that you LOVE to wear, whether that's because it's comfy, it's full of memories, makes you feel great – whatever!
Fashion Revolution campaigns to make people more conscious of how our clothes are made and who makes our clothes. It's also a chance to get curious about the social/environmental/economic impacts of the fashion industry. I'm hoping that getting participants to think about clothes they personally love will spark curiosity about where they come from.
So following that, I thought we could also go into some methods of investigating a garment. I have a fleecy dressing gown that's become a second home to me recently, and believe it or not, just the little bit of research I've already done on it so far has been fascinating! Investigating your wardrobe is a surprisingly great way to pass time during lockdown.
If the participants want to follow up the Zoom session by creating content around their fashion love stories on Insta or YouTube, I think that'd be amazing and I'd love to see them. Or they could try taking that loved item and actually investigating it and creating interesting/creative digital content about what they've discovered.
The hashtags that Fashion Revolution use are #fashionrevolution #whomademyclothes
N: We're really excited about this Charlotte. Readers, you can register to partake in the workshop on this page.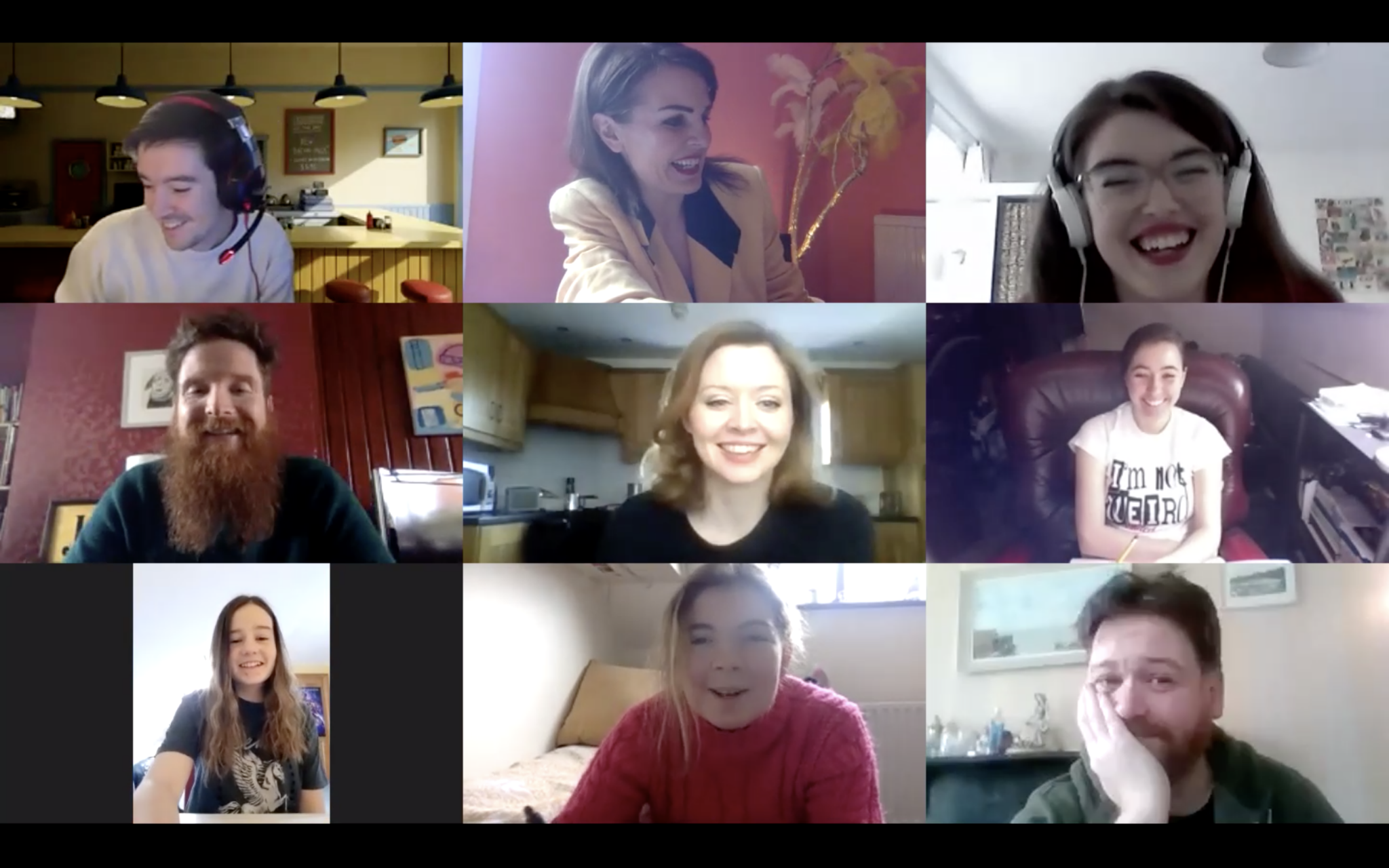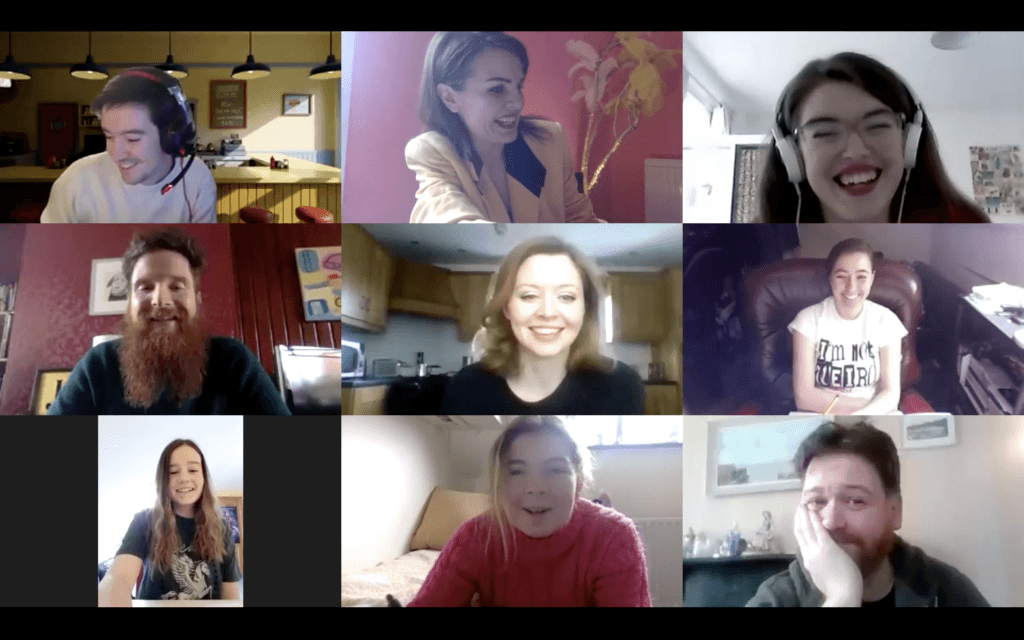 N: How do you find the relationship between campaigning for change in the fashion industry and your role as Fashion Curator in a museum? Do you see the two as being separate or does your role in the museum give you a platform to speak on these issues?
C: Oh they definitely go hand in hand. Being a Fashion Curator means being curious about the clothes in the collection, right down to the fabrics, when they were made, how they were made, where they came from, who owned them in a previous life. Whether it's a piece from centuries ago or the 1960s, a garment once carried someone through certain stages in their life and become imbued with meaning beyond what they are as a material object.
It became impossible for me to do that as a job and not start to re-think the clothes in my own wardrobe. When I heard about Fashion Revolution I couldn't believe how much of its philosophy crossed over easily into how a fashion curator should think about garments – with curiosity and with a consciousness that our clothes reflect who we are and what we aspire to both individually and as a society.
N: I think we could all do with practising that curiosity, but it is a habit we need to consciously get into to. What piece of advice would you give readers who want to play a part in generating change in the fashion industry? Where should they start?
C: I think Vivienne Westwood put it best "Buy Less, Choose Well & Make it Last."
N: Great advice and I think your upcoming workshop will help us get in that mindset. Thanks again Charlotte. See you soon for Stay IN Style!